Goodyear Vector 4Seasons SUV
The Goodyear Vector 4Seasons SUV is a Premium Touring All Season tyre designed to be fitted to SUV and 4x4s.
This tyre has been replaced by the Goodyear Vector 4 Seasons Gen 2 SUV.
Tyre Reviews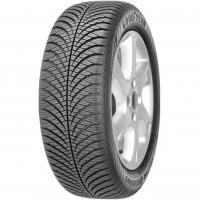 Sorry, we don't currently have any magazine tyre tests for the Goodyear Vector 4Seasons SUV
| Size | Fuel | Wet | Noise | Weight |
| --- | --- | --- | --- | --- |
| 215/70 R16 100T | E | C | 67 | 12.06kgs |
| 215/70 R16 100T XL | E | C | 69 | 11.44kgs |
| 235/55 R17 99V XL AO | E | C | 67 | 13.27kgs |
| 235/55 R17 103H XL | E | C | 68 | 13.93kgs |
Sorry, we don't currently have any questions and answers for the Goodyear Vector 4Seasons SUV. Why not submit a question to our tyre experts using the form below!
Ask a question
We will never publish or share your email address
Vector 4Seasons SUV Prices
Top 3 Goodyear Vector 4Seasons SUV Reviews
Given
90%
while driving a
Volvo XC60
(235/65 R17 V) on
a combination of roads
for 500
spirited
miles
I replaced some Continental tyres which came with the car, and am very happy with these Goodyears.

They are very grippy in the dry and give the driver much more confidence in the wet, even when the road surface is quite greasy. Have completely transformed the car for the better, the car now grips where as with the Conti's it would understeer and slide wide.

I was concerned that dry grip would be sacrificed but that is not the case, these seem to have just as much grip as top end summer tyres. They do seem to give a slightly stiffer ride but that could just be me.

I haven't had a chance to test them in real winter conditions just yet, so will reserve judgement on that. We did have to drive over a muddy field recently and they handled the hills with ease.

I don't know how they'll wear - I'll report back with my findings.

Overall I'm very impressed thus far, and would recommend purely on the dry and wet grip.



Given
90%
while driving a
Volvo XC60
(235/65 R17) on
mostly country roads
for 5,000
easy going
miles
I have recently replaced the two at the front end following 22,000 miles on the last set. The previous Vector4Seasons lasted extremely well and provided assured driving in all conditions. Touch noisier than the Michelin original fits, and I think a little harsher day to day. Having replaced the previous set with the updated version in late October the new model tyre seems even better. A slightly more pliant ride, still very assured.
But what makes these tyres spectacular is snow performance; on Thursday 1st March I had the privilege of supporting our NHS by ferrying a nurse to the not-so-local hospital through some of the worst snow and blizzard driving conditions I have ever experienced. Over 100 miles in about 8 hours, across, up and down the hills of Wiltshire and Somerset, these tyres were exceptional, giving confident traction at all times, including in places where some respectable four wheel drives were struggling/abandoned. With careful control the front wheel drive diesel Volvo XC60 was able to keep moving where the vast majority of others were struggling.
I thoroughly recommend these tyres and cannot envisage replacing them with anything else.
Given
97%
while driving a
Skoda Yeti 4 x 4
(225/50 R17) on
mostly country roads
for 10
average
miles
The tyres were bought for winter as the Dunlop tyres on the Yeti were useless in the ice and snow, the Goodyears transformed the Yeti and I was able to travel along the country roads and farm tracks and field to our stables without any bother, they also give a very good ride and performance in the dry which I was pleased about as when the OE tyres are part worn I will use the Goodyears all the year round.
Have you driven on the Goodyear Vector 4Seasons SUV tyre?
Have YOU got experience with the Goodyear Vector 4Seasons SUV? Help millions of other tyre buyers
Latest Goodyear Vector 4Seasons SUV Reviews
Replaced factory spec Goodyear All Weather with these Vector 2. Changed the car completely. Now instead of being on the road it feels part of the road. Solid, planted, trustworthy and very comfortable. Driven in the wet, dry and in the mountains ice but no real snow yet. Cruise at 130 on good roads - no problem either.
Car Land Rover LR2.
Given
88%
while driving a
Nissan Juke
(215/60 R17) on
a combination of roads
for 2,000
spirited
miles
I bought these as an alternative to winter tires for my 2016 nissan juke, and just my luck the snow started falling the day they were delivered, and I drove to get them installed, driving away in the blizzard from the garage, good results in snow, my driveway is 50meters of slight hill, no problem. This is a good tire for ice aswell, wet snow was the only challenge!! My juke is 2wd. So after 2 months of ice and snow now there is wet, and the tires are great, good cornering, quiet , dry is equally good, and the tread looks cool too. I am saving the oem tires to put on before I sell the car, and with the crazy weather, we have on and off winter until may, it doesnt make sense to own winter and summer tires in my opinion, recomended!!
Given
79%
while driving a
BMW X118d xDrive
(235/45 R17 V) on
a combination of roads
for 15,000
spirited
miles
Dry grip is good but not up to the standard of a good summer tyre but that is to be expected. The dry grip is perfectly fine though. In the wet the car has a tendency to slide and doesn't give that much notice but this is only a concern with the foot to the floor otherwise they are fine. Comfort wise they are good other than a bit of noise but again this is expected of an all season tyre. Grip off road in soggy mud and also wet and dry gravel tracks is fantastic but again not to the standard of a proper off road tyre. Cold weather and snow grip is also good. Can't really comment on fuel economy but would imagine it to be worse than a summer tyre. These tyres are driven on the limit of grip all day every day in all conditions and still have plenty of tread left would expect 30000 from them and that's hard driving..

As an all season tyre or an all rounder then they are good good mix of road and off road capability. Would recommend but there is a price to pay as they are probably the most expensive tyres going.