The Landsail DH2 is a Touring Summer tyre designed to be fitted to Passenger Cars.
Tyre Reviews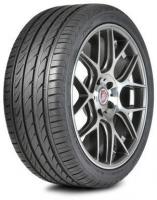 Sorry, we don't currently have any magazine tyre tests for the Landsail DH2
Sorry, we don't currently have any label data for the Landsail DH2
Sorry, we don't currently have any questions and answers for the Landsail DH2. Why not submit a question to our tyre experts using the form below!
Ask a question
We will never publish or share your email address
Top 3 Landsail DH2 Reviews
Given
51%
while driving a
Fiat 127
(175/65 R15) on
mostly town
for 1,500
easy going
miles
These came brand new with our grande punto and they wear terrible they keep leaking I've replaced the valves cleaned the beads and applied bead sealer there are no punctures so who knows ?
Given
67%
while driving a
BMW 325i
(225/45 R17 W) on for 0 miles
I bought my car with 4 delinte DH2 already mounted. I found initially them great but after 20kkm, I have 100% changed my mind!

All of the 4 tires are cracked on the thread + edge, worse than my old Conti sport contact... and even worse, one of them is totally deformed on the thread.

My car is in good conditions, suspension system is new. Handling is not good enough in curve, the tire side is very smooth.

It is not worth buying, as many chinese tires... we have the quality we pay for:
- poor assembly
- bad wear due to poor rubber quality
Given
84%
while driving a
Mazda 6
(225/55 R17) on
a combination of roads
for 20,000
average
miles
Great alternate to a top brand tyre.
Alot of taxi drivers (as I also) use them, great lifespan, good around performance.
Have you driven on the Landsail DH2 tyre?
Have YOU got experience with the Landsail DH2? Help millions of other tyre buyers
Latest Landsail DH2 Reviews
Chronic in the wet. I did not find them to be safe - sliding at normal speeds around roundabouts and semi tight bends and on pulling away. No confidence in the tyres ability/
Given
22%
while driving a
Citroën C6
(245/45 R18) on
mostly motorways
for 6,000
easy going
miles
The Delinite DH2 came on a car which I bought second hand and when I first saw them I was suspicious so looked at some reviews. I wish I had changed them straightaway because these tyres cost me the car in an emergency braking situation. The Delinite DH2 is a noisy and uncomfortable tyre, with very poor fuel efficiency rating and if I wasnt an experienced driver of 25+ years these could have cost my life a few times in the wet. Please please please DO NOT BUY even if you are tight for cash. Anything else is better, Avon, Falken, Dunlop, Good Year. Anything. If this brand is fitted to your current vehicle CHANGE as soon as possible and I mean today.
Given
73%
while driving a
BMW ActiveHybrid 5
(245/45 R18 W) on
a combination of roads
for 15,000
average
miles
These tires are surprisingly capable considering their price.

I drive a performance hybrid with around 400hp, However I have a pretty relaxed driving style, until I find a twisty road. They deal well enough with the cars weight and are progressive enough but lack feedback on what the road is doing and what the car is doing. So steering feel and road feedback are a weakness when driving in a spirited manner.

Braking performance is the dry is good.

What surprises me though is the wet grip on offer. It's surprisingly good. The tyre feels sure footed and gives me confidence. I have put them through torrential rain driving at 65 mph to 70 mph as a test with no aquaplaning and good response on the highway. and even on twisty bit they do grip tenaciously. Be warned though, once they reach the limit and let go, you have to be awake as when it happens the speeds are high and that progressive feel of approaching the limit in the dry, isnt there in the wet.

They are comfortable on smooth tarmac with very little road noise. On concrete with rain grooves, they get noisy. Also on rutted roads (Like we have in Southern CA) they can tramline especially on concrete.

Would I buy again? Sure. I have few complaints and the price means they are a good budget tyre.
Jeep
(225/45 R17) on
mostly town
for 20,000
average
miles
They suck. Stay away from them. Jave driven 20,000 miles and they are falling apart.
Given
79%
while driving a
Daihatsu Terios
(215/65 R16) on
mostly motorways
for 25,000
easy going
miles
I have driven these tyres for 5 years (around 35000 Km) and I can say that they performed equally to their price! They were cheap and their performance wasn't the best, except for the wear.
They were reliable in handling but noisy.
I think I'll go for something better.
Enthusiastic performance very poor, what grip poor