The Maxxis Mecotra ME3 is a Touring Summer tyre designed to be fitted to Passenger Cars.
This tyre replaced the Maxxis Victra MA510.
Tyre Reviews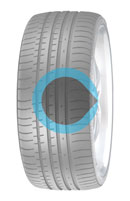 Sorry, we don't currently have any label data for the Maxxis Mecotra ME3
Questions and Answers for the Maxxis Mecotra ME3
2018-10-02 - What is the weight of a Maxxis Mecotra ME3 165/65/14?
Unfortunately we don't have any weight data for this tyre.
---
Ask a question
We will never publish or share your email address
Top 3 Maxxis Mecotra ME3 Reviews
Given
51%
while driving a
Ford Focus
(205/55 R16) on for 6 miles
I bought these tyres mid-September '18 and I'm replacing them now mid-January '19. Decent grip in the dry but prone to understeer in the wet.
Renault
(185/60 R16 T) on
mostly town
for 12,000
spirited
miles
They are fitted to a mk3 clio 1.4.

They are an alright tyre in the dry, reasonably quiet, comfy and have decent grip in the dry. However, anything other than dry they are terrible. Fitted to a 100hp car and it still lights up the tyres in 2nd at a reasonable rpm in the wet. I've never had any tyres do this in such a low hp car. When cornering, they are predictable in the wet and dry which is a plus for me. All 4 tyres currently have 5mm so wear is quite good.

I know its a summer tyre, but they significantly lose grip in sub 0 temps where as my older tyres, dunlop sp sport 01 retained a lot more grip in less than ideal conditions.
Admittedly I've not had these long but really a very good all round tyre, you won't get much better for the money and a big step up from the cheapest budget / unknown brands. Very grippy, car does not understeer as easily in the dry and seems to allow me to exploit the handling characteristics of my car a bit more. Less wheel spin that previous tyres too. If I was critical possibly less feedback but honestly it's hard to tell and not an objective thing really.
Have you driven on the Maxxis Mecotra ME3 tyre?
Have YOU got experience with the Maxxis Mecotra ME3? Help millions of other tyre buyers
Latest Maxxis Mecotra ME3 Reviews