The Nexen CP661 is a Touring Summer tyre designed to be fitted to Passenger Cars.
Tyre Reviews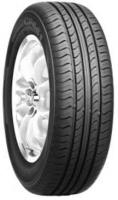 Sorry, we don't currently have any magazine tyre tests for the Nexen CP661
Sorry, we don't currently have any label data for the Nexen CP661
Sorry, we don't currently have any questions and answers for the Nexen CP661. Why not submit a question to our tyre experts using the form below!
Ask a question
We will never publish or share your email address
Top 3 Nexen CP661 Reviews
Given
87%
while driving a
Kia Motors
(225/70 R16 T) on
a combination of roads
for 19,000
average
miles
Having tried different premium tyres and now on a reduced budget, I decided to try these on all four wheels. All I can say is they outshone the rest in all areas, especially wear. The grip was excellent, even in the wet and they were more comfortable than all the others and no noisier than most. The premium brands were averaging 11000 miles on my "tank" and I have just changed the front Nexen tyres after 19000 miles! These are a quality tyre for a budget price and I will always use them in the future, cannot recommend them enough
Given
77%
while driving a
Citroën C3
(185/60 R15 H) on
a combination of roads
for 10,000
spirited
miles
Better dry grip than the yokohama A Drive and similar to Goodyear Eagle NCT5. Comfortable and honest tire.
Given
83%
while driving a
Toyota Wish
(195/65 R15) on
a combination of roads
for 8,000
easy going
miles
Had these tyres on for 18 months now. Couldn't be happier with them. Value for money is outstanding. A great all round tyre for the mum bus. Wet performance is more than acceptable, I feel confident on the open road & around town no matter the conditions. No road noise to speak off either & wear rate is very good.
If you're looking for a cheaper tyre then defiantly put these on your short list.
Have you driven on the Nexen CP661 tyre?
Have YOU got experience with the Nexen CP661? Help millions of other tyre buyers
Latest Nexen CP661 Reviews
I often spend too much time researching my new purchases and analysing their worth, but I found these by accident!
bought a second hand clio and these were on the front, that was last summer and they weren't new. Drove it over the warm, then wet and somewhat cold winter we have just had and have no complaints! I drive so dual carriageway some town/CITY and some often bad country roads. I have found them very good grip wise, not loud enough to be anything to write about, and have yet to get them to wheelspin when I tried quite hard! Car had a fault with tc light so we were testing to see if it was on or off but after a short drive, no wheelspin could be done and tc working well. On my car they have been amazing and good value, tried many other well known brands and have bought my second set of these as they did so well! They are also called roadstone with the same CP661 I have heard. Just named in Europe differently... to uk I think..
Given
61%
while driving a
Kia Motors
(195/65 R15) on
mostly town
for 24,233
easy going
miles
Had to be replaced on our family car at 39000 kms - a lot earlier than others have wrote despite our conservative driving methods.
Given
73%
while driving a
Toyota Wish
(195/65 R15) on
a combination of roads
for 2,200
average
miles
These tyres came on the Mrs new (to us) mum bus. I'm always a bit sceptic about cheap tyres but the Koreans seem know how to do them right.
Grip in the dry & wet is more than acceptable (I have F1 Asy2 on my own car). I've driven the car of a mixture of roads surfaces & conditions (smooth seal, course chip, dry, very wet etc) & they've never given me any feeling they were going to let go. Very good value for money, I'd use these again any day over the likes of Bridgestone ER300 etc.
After 3500km they're not showing any signs of wear so I expect they'll be on there for at least 50K km.
Given
75%
while driving a
Kia Motors
(205/55 R16 V) on
a combination of roads
for 2,000
average
miles
Nexen CP661 tyres are pretty good if you need a V speed-rating. These were already fitted onto a Kia Ceed front-wheel-drive hatchback, and they track straight at motorway/autostrada speeds; the vehicle path is not too bothered by broken surfaces or painted lines; they steer around corners quite well; they don't lose traction during acceleration nor grip during braking under normal conditions. They are also fairly quiet, ranging from silence on new tarmac to informative rumbling on other surfaces; other big-name brands of rubber have been much noisier and less grippy than these Chinese-made Nexens.

Having driven this car with Nexen CP661 tyres on hot tarmac and concrete; cooler, wet roads; and a few stretches of dry gravel road, I know I can proceed with confidence around town; up and down twisty hill roads; across country at moderate speeds and fast on the motorway. The tread and rubber seem to be optimized for spring, summer and autumn weather, so you would need to change to something else for winter snow, frost and/or offroad mud.