The Three A P306 is a Touring Summer tyre designed to be fitted to Passenger Cars.
Tyre Reviews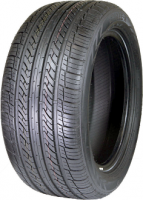 Sorry, we don't currently have any label data for the Three A P306
Sorry, we don't currently have any questions and answers for the Three A P306. Why not submit a question to our tyre experts using the form below!
Ask a question
We will never publish or share your email address
Top 3 Three A P306 Reviews
Given
84%
while driving a
Vauxhall
(185/60 R14 V) on
mostly town
for 2,000
average
miles
Fitted 4 of these to my dear old mum's Vauxhall Astra 1.6.
specifically selected as AAA tyres are budget with Excellent ratings in both wet and dry grip. Overall, the tyres do exactly as they say on the label, I found the sidewall a little soft which i suppose assists in comfort, however, this does delay driving feedback on the profile i fitted ! maybe i should of opted for a lower profile. road db noise is good, wear rate appears to be average although the car is never driven hard to contribute to wear.
On the whole.... a great , if not one of the best " Budget tyres " Ideal for motorists on a budget that require above average tyre ratings.
Given
94%
while driving a
Vauxhall Astra
(205/55 R16 V) on
mostly motorways
for 35
easy going
miles
Have travelled over 35,000 miles now and still another 5,000 miles wear left on them. I did though swap the tyres around from front to back etc at 30,000 miles so I'm very pleased with the wear rate. I don't drive hard so braking for me is excellent on the dry or wet. Will definitely be buying again and the new set will see the car out.
Given
77%
while driving a
Toyota Innova
(205/65 R15 V) on for 25,000 miles
I live in MiddleEast where the temperature riches 50°c in the summer.
I have installed 2 three-A tires in the front like 16 months ago. I'm really amazed that it has crossed 40k+ KMs and i feel will go more 5k. Obviously a buy again. I recommend it to everyone who is looking for some cheap chinese tyres.
Have you driven on the Three A P306 tyre?
Have YOU got experience with the Three A P306? Help millions of other tyre buyers
Latest Three A P306 Reviews
Given
70%
while driving a
Alfa Romeo GT 1.9 JTD
(225/45 R18) on
a combination of roads
for 5,000
average
miles
Find these tyres to be OK but not really great at anything in particular. Levels of dry grip are OK and not dangerous but easy to spin wheels up even with LSD. Easily loses grip in the wet when pulling away but seems to go round corners OK but I don't have the confidence to push it.