Uniroyal RainExpert 3 SUV
The Uniroyal RainExpert 3 SUV is a Premium Touring Summer tyre designed to be fitted to SUV and 4x4s.
Tyre Reviews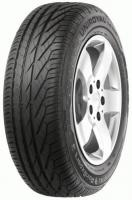 Sorry, we don't currently have any label data for the Uniroyal RainExpert 3 SUV
Sorry, we don't currently have any questions and answers for the Uniroyal RainExpert 3 SUV. Why not submit a question to our tyre experts using the form below!
Ask a question
We will never publish or share your email address
Top 3 Uniroyal RainExpert 3 SUV Reviews
Given
66%
while driving a
Land Rover Discovery 3
(255/60 R18) on
mostly country roads
for 10,000
average
miles
I fitted these to my Discovery 3, and had a full 4 wheel alignment done at the same time.
All the suspension joints were also checked for any play.
Great tyre in the dry and wet, however 10,000 miles and 12 months later all 4 need replacing.
Not the lifespan i was expecting by any stretch of the imagination.
They only cost me £80 each but i should have spent a bit more on another brand and got 2x or 3x the life.
Given
90%
while driving a
Dacia Duster 4x4
(215/65 R16 H) on
a combination of roads
for 3,000
easy going
miles
Best in wet, dry it adheres well. The side wall is a little softer than the average, from very convenient. Purchase again.
Given
88%
while driving a
Honda CRV
(225/45 R17) on
mostly country roads
for 3,000
average
miles
Had all four tyres replaced with these and the transformation was dramatic. I just can't fault them though I have no experience yet of their wear rate. On my CRV they track very well but it is the NVH that blows me away relative to the last tyres. Quiet running, smoother on joints and surface imperfections but without affecting feel or steering response. I'm not a racing driver and it is a CRV but I rate them very highly for all round quality and feel. They have proved confidence inspiring in the rain and in the recent snow. In a recent emergency brake and swerve there was zero scrabbling or locking. I will definitely repeat the purchase as long as they last reasonably well.
Have you driven on the Uniroyal RainExpert 3 SUV tyre?
Have YOU got experience with the Uniroyal RainExpert 3 SUV? Help millions of other tyre buyers
Latest Uniroyal RainExpert 3 SUV Reviews
Given
64%
while driving a
Volvo XC60
(235/60 R18 V) on
mostly country roads
for 5,000
average
miles
The tires are truly designed for rain or foggy weather. Advantages: Excellent breaking on wet, no water sliding, keeps the car on the road even in heavy rain with random water depth in forgotten country areas, excellent feedback at low speeds, excellent grip on sand and unstable grounds, excellent work in 4x4 mode, their look is nice with those big outside blocks and asymmetrical shape. Disadvantages: Average breaking on dry, bad feedback over 100 kmh, understeering over 150 kmh, poor wear, very expensive, not a common tire not available for quick order.
Given
60%
while driving a
Land Rover
(235/60 R18) on
mostly town
for 15,000
easy going
miles
Land Rover Freelander2
I have fitted to two Freelander 2's now and they are what they are, a good summer tyre with excellent wet and dry grip.
I decided to try them given that the white stuff doesn't make much of an appearance these days and I figured the car's four wheel drive would be able to cope with out the all weather and or winter tyre option and to be fair it did to a point, how ever the part warn Michelin Latitude all weather on the rear wheels that came on the second hand wheels I bought well and truly showed up the Uniroyal's. More alarmingly was the wear to the front tyres, down to the thread in under 15000 miles NSF, had tracking checked and all ok hmmm, same thing happened on last LR2 as well, they always looked a bit on the soft side but despite checking pressure regularly they held the correct pressure, so not so sure they are truly for an SUV.
Will go back to all season tyres from now on.
I purchased a full set of the Uniroyal Rainsport 3 for my Range Rover Sport 3.0ltr HSE just at the beggining of 2018.
These tyres were great from the off, especially after i'd been riding around on a brand new budget set that came with the car. This transformed the handling and stopping distance immediatley!
Wet, dry and snow I have driven in this year and they've coped admirally and inspired confidence which is essential in a big heavy suv/4x4 such as mine.
On a purely asthetic note, they look good from the side view on the car and the tread pattern is a work of art!
I wouldnt hesitate to buy these again especially as i managed to get them for £125 each, which I considered to be good value for a tyre with the size rating 275/45/20 y speed rating xtra load......