The Viking Wintech is a Touring Winter tyre designed to be fitted to Passenger Cars.
Tyre Reviews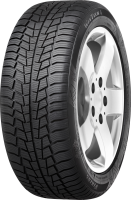 Sorry, we don't currently have any label data for the Viking Wintech
Sorry, we don't currently have any questions and answers for the Viking Wintech. Why not submit a question to our tyre experts using the form below!
Ask a question
We will never publish or share your email address
Top 3 Viking Wintech Reviews
Given
86%
while driving a
Subaru XV Crosstrek
(225/55 R17 W) on
a combination of roads
for 4,000
average
miles
For me all in all, very good tyres if you have a low budget. Can recommend!
I had to buy winter tyres on a buget and Viking Wintech fit it best. They proved to be ok until one day. This year on the 24 of January.
Imagine exiting a village, road just wet, raining but not a lot and in front of me just 100 maybe metres away cars half on the road, half in the ditch on both side of the road. ICE. Hit the brakes, car slows down, slid a little and stopped. On ICE. It was incredible. There was no other choice, I had too much speed to try to stop in any other way, to change the direction of the car was not a choice on that ICE. Then I drive 30km on this icy road, first gear, raining, strong wind from side mostly because this road is on the open field. I made it home in one piece and the car too.
They have proven to be good on dry and wet and crazy good on ice.
This size is also comfortable on bad roads.
Fuel consumption is an extra 0.5 l compared to my summer Michelin Primacy 3.(so the car computer shows)
Wear is ok, I have used them for 2 winters, this is the third and they look good.
Vectra C Caravan /wagon is a heavy car, 1,6t without passengers and luggage. The tyres are not affected by the weight of the 2.0 DTI engine, I kept the same 2 tyres on the front wheels with no problems.
When they will be worn out, maybe by 2022, I will buy a new set.
Given
76%
while driving a
BMW 116d
(225/45 R18) on
a combination of roads
for 4,000
spirited
miles
Very nice rolling and low noice, overall high comfort. Soft Overall feel when driving fast but predictable, not the sharpest steering. Only had very short time on snow with new tyres and the grip was very good. Average behavior in the wet.
Have you driven on the Viking Wintech tyre?
Have YOU got experience with the Viking Wintech? Help millions of other tyre buyers
Latest Viking Wintech Reviews
After 3 seasons of using them, these tires are showing a lot of problems in areas that they were excellent at before. Although the wear of the tires is excellent, they are seriously lacking performance in wet and snow after 3 years of using them (only using them over winter months). Tires are hard as a rock now even though they have about 5.5mm depth still on the threads. Still, they never failed me so far unlike other brands that I used before, so for a budget tire, I am giving them huge thumbs up
Given
79%
while driving a
Skoda
(215/55 R17 V) on
a combination of roads
for 10,000
average
miles
Excellent value for money... a bit noisy...
Given
89%
while driving a
Opel Corsa C
(155/80 R13) on
mostly country roads
for 3,000 miles
We put these tyres on our second car,Opel Corsa C 2006y 1.0 Z10xep in 2017. Very good budget tyres,best quality in this mid-range class,exceptional for smaller cars,in everyday use - for kids to school and on regional roads city-village and back. Wear is very good,good grip in wet and dry,very good in snow. But,this is only for normal driving. Only thing that I can say that they were very nice and soft in first season of use,now they are a little bit harder but this is not a problem, they are same as Barum and Matador in this case. In this dimension they are made in Romania,other dimensions are from Puchov Slovakia We didn't push them to the limit and never will...drive carefully.
Very good budget tyre. Excellent grip in dry, wet and snow. Wear seems pretty good.

Only downside for me is the noise.

Recommend this tyre if you are on a tight budget.
Given
70%
while driving a
BMW E46 328CI
(225/55 R16) on
a combination of roads
for 5,000
spirited
miles
You can't compare these tyres with an A brand like Conti or Michelin.
For a low budget these Vikings are the best winter tyres I have driven.
Excellent comfort, and wet grip.
Road feedback and handling are nowhere near the A brand tyres, but not as bad as I make it sound.
Wear is good.

Only thing I didn't like was the road noise they make, energy label is also pretty low. Not very economic tyres.

All in all, very good tyres if you have a low budget. Can recommend!