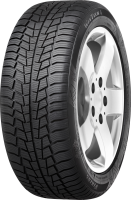 Sorry, we don't currently have any label data for the Viking Wintech
Sorry, we don't currently have any questions and answers for the Viking Wintech. Why not submit a question to our tyre experts using the form below!
Ask a question
We will never publish or share your email address
Top Viking Wintech Review
Given
86%
while driving a
Subaru XV Crosstrek
(225/55 R17 W) on
a combination of roads
for 4,000
average
miles
For me all in all, very good tyres if you have a low budget. Can recommend!
Latest Viking Wintech Reviews
Have you driven on the Viking Wintech tyre?
Have YOU got experience with the Viking Wintech? Help millions of other tyre buyers
Given
79%
while driving a
Skoda
(215/55 R17 V) on
a combination of roads
for 10,000
average
miles
Excellent value for money... a bit noisy...
Given
76%
while driving a
BMW 116d
(225/45 R18) on
a combination of roads
for 4,000
spirited
miles
Very nice rolling and low noice, overall high comfort. Soft Overall feel when driving fast but predictable, not the sharpest steering. Only had very short time on snow with new tyres and the grip was very good. Average behavior in the wet.
I had to buy winter tyres on a buget and Viking Wintech fit it best. They proved to be ok until one day. This year on the 24 of January.
Imagine exiting a village, road just wet, raining but not a lot and in front of me just 100 maybe metres away cars half on the road, half in the ditch on both side of the road. ICE. Hit the brakes, car slows down, slid a little and stopped. On ICE. It was incredible. There was no other choice, I had too much speed to try to stop in any other way, to change the direction of the car was not a choice on that ICE. Then I drive 30km on this icy road, first gear, raining, strong wind from side mostly because this road is on the open field. I made it home in one piece and the car too.
They have proven to be good on dry and wet and crazy good on ice.
This size is also comfortable on bad roads.
Fuel consumption is an extra 0.5 l compared to my summer Michelin Primacy 3.(so the car computer shows)
Wear is ok, I have used them for 2 winters, this is the third and they look good.
Vectra C Caravan /wagon is a heavy car, 1,6t without passengers and luggage. The tyres are not affected by the weight of the 2.0 DTI engine, I kept the same 2 tyres on the front wheels with no problems.
When they will be worn out, maybe by 2022, I will buy a new set.