The Wanli S1097 is a Touring Summer tyre designed to be fitted to Passenger Cars.
Tyre Reviews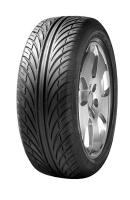 Sorry, we don't currently have any magazine tyre tests for the Wanli S1097
Sorry, we don't currently have any label data for the Wanli S1097
Sorry, we don't currently have any questions and answers for the Wanli S1097. Why not submit a question to our tyre experts using the form below!
Ask a question
We will never publish or share your email address
Have you driven on the Wanli S1097 tyre?
Have YOU got experience with the Wanli S1097? Help millions of other tyre buyers
Latest Wanli S1097 Reviews
Given
22%
while driving a
Mazda rx7
(225/40 R18) on
a combination of roads
for 3,000
spirited
miles
These tires came on my RX7 from Japan. As others have said, these things are LOUD. I thought my pinion bearings were out because of the insane drone these tires give. Grip and handling are almost non-existent. These are dry tires made of the wrong compound. Turned my sports car into a shopping cart on ice. Only good for pouring bleach on them and doing big burnouts. Surprisingly comfortable ride, but there is zero feedback from these tires. I'm not sure of the wear these tires get, but I'll tell you that I will destroy them and steer far far away from Wanli tires--shouldn't be a problem steering when I fit some real rubber to the car, either.

0/10 dangerous as hell.
Given
11%
while driving a
Ford Fiesta mk7
(195/45 R16 V) on
a combination of roads
for 1,000
average
miles
Bought my Mk7 Fiesta about 6 weeks ago with these tyres fitted to the front, in the 1000 maybe less miles I have covered these tyres are beyond abysmal... The road noise is shocking and the cat almost sounds as if the wheel bearing has given up. With 26k on it's clock, I doubt it!

They aquaplane badly in the wet and have spin up very easily even in the dry! These are the the kind of tyres people who have no understanding of tyres fit. I would very much like to ask the previous owner just what they were thinking. When there is mid range tyres for about 45/50quid for my cars tyres size... Why fit this crap?

I have booked my car in for full set of Dunlop sport bluresponse, I would very much like to take a lighter to these tyres!
Good riddance!
Given
94%
while driving a
Nissan Sentra
(225/45 R17 W) on
mostly motorways
for 10
spirited
miles
I have maxed out my car at 240 kilometers. These tires are excellent for gripping the highways and city streets. Great in the rain also. Will be buying again. Highly recommend.
Wanli-S-1200, had these tyres fited two years ago to the rear of my wifes clio, she has never felt secure on these tyres(continentals on the front). The rears were down to 6mm but began to realy slip in the wet causing two serius spins on roundabouts. I have now changed the Wanli for two mid range tyres and the confidence in the clios handeling is restored.
Given
41%
while driving a
Vauxhall Corsa
(195/45 R16 V) on
mostly country roads
for 300
spirited
miles
These tyres were fitted new to my Corsa C 1.8 SRi when I bought it.
I like to drive the car at a spirited pace and the tyres are awful. Wheelspins in changing from first to second and second to third in bone dry conditions. And in the wet I do not feel safe driving the car with them.
Budgets yes.
Ditchfinders also.

Please spend a bit more and get premium tyres people.
Given
83%
while driving a
SEAT ibiza 1.4
(225/45 R17) on
mostly town
for 0
easy going
miles
as far as the tyre goes there are very good for the price i payed £20 for two because the person who ordered didnt pick up so i had them.

the tyre does make that much noise with i can tell and the handling is goos as well they stick to the road nice.

i got my tyres in november 2010 (it is feb 2011 now) and they are as new no signs of wear and tear.