The Westlake SA 07 is a High Performance Summer tyre designed to be fitted to Passenger Cars.
Tyre Reviews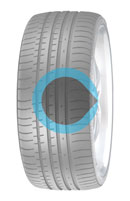 Sorry, we don't currently have any label data for the Westlake SA 07
Sorry, we don't currently have any questions and answers for the Westlake SA 07. Why not submit a question to our tyre experts using the form below!
Ask a question
We will never publish or share your email address
Top 3 Westlake SA 07 Reviews
Given
24%
while driving a
Mercedes Benz E270
(225/55 R16 W) on
mostly town
for 5,000
easy going
miles
bought two Weslake tyres and told fitters that i carry a grandchild so want good tyres they recommended these tyres, worst tyres i have ever bought. They are o k in the dry but your heart is in your mouth in the wet, spin out every time on round abouts and turning corners, i contacted national Tyres kilmarnock where bought they did nothing. I have done approx 5,000 miles will need changed quite soon again. Would not recommend.
Given
32%
while driving a
Mazda MX5
(205/50 R16 V) on
mostly country roads
for 1,000
average
miles
These tyres were already fitted to my mx5 when I bought it. In the dry they grip ok but tramline like crazy. They give a comfortable ride, but that is the only positive thing you can say about them. In the wet they are positively dangerous, they lose grip very unpredictably and at quite low speed, on roundabouts you just never know when they will let go, I have a number of moments with them, which because of the wonderful handling of the Mazda I have been able to control, but they are scary!
I would not recommend these tyres at all to anyone, ever!
Perfectly fine grippy tyres in the dry.

As soon as the road becomes wet with drizzle or it starts raining, my car turns into a FWD drift machine. If you value your life with the British weather, do as I have and get them changed immediately. I now have a set of Michelins on all my wheels and I feel much safer already, no more wheelspin in second gear when the roads have a little bit of drizzle on them.

God forbid actually using these rubbish tyres when it is snowing or icy... deathwish.
Have you driven on the Westlake SA 07 tyre?
Have YOU got experience with the Westlake SA 07? Help millions of other tyre buyers
Latest Westlake SA 07 Reviews
Given
41%
while driving a
Audi A4 1.9 TDI
(235/45 R17) on
mostly town
for 500
average
miles
These tyres came with a set of wheels I bought for my Audi. Absolute HORRIBLE tyres, when I put them on I immediately felt negative feedback from them and knew they was rubbish. In the wet pulling away they do nothing but spin unless I pull off very gently, going around islands in the wet can be dangerous because they can and will slide out if going at a steady pace (I had to slow right down on islands). They have a nasty habit of tram lining as well, never really had this problem before but after fitting different tyres this issue is non existent again so they definitely tramline on certain surfaces. They are reasonable in the dry but nothing special, they are also fairly quiet. I thought I scored a bargain with these because they had over 4mm of thread but removing them was the best think I did. Removed after sub 500miles