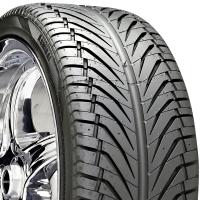 The Admiral 712 is a Touring Summer tyre designed to be fitted to Passenger Car
Show All
Tyre review data from 7 tyre reviews averaging 43% over 70,200 miles driven.
Sorry, we don't currently have any magazine tyre tests for the Admiral 712
Sorry, we don't currently have any label data for the Admiral 712
Sorry, we don't currently have any questions and answers for the Admiral 712. Why not submit a question to our tyre experts using the form below!
Ask a question
We will never publish or share your email address
Top Admiral 712 Review
Given
31%
while driving a
MG MGF NON VVC
(205/50 R15) on
mostly town
for 4,000
average
miles
Without doubt the WORST tyres I have ever had on any car.

Had these fitted at £45 a wheel (all in). I know thats cheap, but I still expect a tyre to be able to hold its own when dry and in a straight line.

At the time I had a RWD 130BHP MGF and these were put on the rear. After less than 4000 miles they had just 3mm of tread left which is astonishingly poor - I could understand it if they were a very soft compound on a powerful, heavy RWD but 65bhp a wheel is not that much on a car weighing 1000kg.

They span in the dry, the span in the wet (managed snow ok for some unknown reason), they aquaplaned like mad in anything other than a 1mm deep puddle. They lost traction and nearly span me out on a roundabout at 9 mph, 9!!!

Noise was not too bad and to be fair they did feel ok when driving around town in the dry with a smooth ride.

WHAT EVERY YOU DO - DO NOT TOUCH THESE WITH A BARGE POLE LET ALONE YOUR ALLOYS
Latest Admiral 712 Reviews
Have you driven on the Admiral 712 tyre?
Have YOU got experience with the Admiral 712? Help millions of other tyre buyers
Given
32%
while driving a
CitroŽn Saxo VTS
(225/45 R17) on
a combination of roads
for 200
average
miles
Wet grip is terrible, they nearly get you killed.

A cheap terrible tyre, the khumo 712 that this is a copy of was a reasonable the.

Simply the worst !
My Mechanic installed 4 tyres on my Saab. The front tyre broke a bead only months after install. The car was hopping up and down until I replaced the tyre.

Given
31%
while driving a
MG MGF NON VVC
(205/50 R15) on
mostly town
for 4,000
average
miles
Without doubt the WORST tyres I have ever had on any car.

Had these fitted at £45 a wheel (all in). I know thats cheap, but I still expect a tyre to be able to hold its own when dry and in a straight line.

At the time I had a RWD 130BHP MGF and these were put on the rear. After less than 4000 miles they had just 3mm of tread left which is astonishingly poor - I could understand it if they were a very soft compound on a powerful, heavy RWD but 65bhp a wheel is not that much on a car weighing 1000kg.

They span in the dry, the span in the wet (managed snow ok for some unknown reason), they aquaplaned like mad in anything other than a 1mm deep puddle. They lost traction and nearly span me out on a roundabout at 9 mph, 9!!!

Noise was not too bad and to be fair they did feel ok when driving around town in the dry with a smooth ride.

WHAT EVERY YOU DO - DO NOT TOUCH THESE WITH A BARGE POLE LET ALONE YOUR ALLOYS
Given
39%
while driving a
Honda Accord
(225/45 R17) on
mostly motorways
for 0
average
miles
Tyres came with the car. I have done just under 30 000km's with little wear. Very noisey - Tyre compound ver hard. Tyres shudder under hard cornering. Unsure in the wet. Will be replacing these with NT5000's