Bridgestone Potenza RE980AS
The Bridgestone Potenza RE980AS is a Ultra High Performance All Season tyre designed to be fitted to Passenger Cars.
This tyre replaced the Bridgestone RE970AS Pole Position.
Tyre Reviews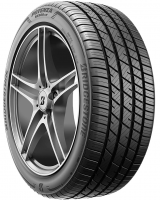 Tyre review data from 3 tyre reviews averaging 64% over 50,000 miles driven.
The Potenza RE980AS is ranked 14th of 16 All Season Ultra High Performance tyres.
Latest Tyre Test Results
2020 Tyre Reviews UHP All Season Tyre Test - 3rd of 7 tyres
Positive - Excellent performance in the dry and wet, quick feeling sporty steering.
Negative - Low levels of comfort, high levels of noise, lacked steering detail at the very limit, expensive.
Overall - The Bridgestone Potenza RE980AS is a dynamic feeling ultra high performance all season tyre with excellent grip in the dry and wet, that just lacks a little detail at the limit of grip.


View Full Test >>
Sorry, we don't currently have any label data for the Bridgestone Potenza RE980AS
Sorry, we don't currently have any questions and answers for the Bridgestone Potenza RE980AS. Why not submit a question to our tyre experts using the form below!
Ask a question
We will never publish or share your email address
Have you driven on the Bridgestone Potenza RE980AS tyre?
Have YOU got experience with the Bridgestone Potenza RE980AS? Help millions of other tyre buyers
Latest Bridgestone Potenza RE980AS Reviews
Given
43%
while driving a
Audi S4
(255/35 R19) on
a combination of roads
for 20,000
spirited
miles
I had the Bridgestones for about 20k miles before they were worn to the way to the legal limit. The initial turn-in was great on dry surfaces for the life of the tire. Felt really planted. As far as the wet, it started great but by about 30% life they got really sketchy. And as far as snow and ice, I would suggest not even trying it. These are as bad as full summer tires in the snow, from my experience. Not that it means much for cornering and braking, but I have quattro AWD and a lot of snow driving experience. So I didn't have issues getting stuck, but if I didn't have that technology it definitely would have. As far as comfort, they are awfully uncomfortable. They feel like squares before they're warm so the car shakes like you're out of alignment for about the first 3mi/5km on days that are not already quite warm. You feel everything on the road even when they're warm. So good for track driving, but not good for a daily driver if though they're labeled as all seasons. At the time of writing this I've recently installed on Michelin A/S 4, and the difference in comfort is quite large. The Michelin is much more comfortable and feels like you're actually driving on rubber, the Bridgestones feel like driving on bricks. Which means the Bridgestones also have much more feedback to what's happening on the road. As far as the noise, they are quite loud. Only got worse over time. Overall, I would not recommend these tires, personally. From my experience they were not suitable for daily driving, and wouldn't be as good as a dedicated summer tire even in the areas the Bridgestones excelled in.
Given
81%
while driving a
BMW 325i
(245/45 R18) on
a combination of roads
for 20,000
spirited
miles
The RE 988 is a really great tire, matches the BMW perfectly and feels nice and sporty for an all season tire :)