The Capitol Eco 007 is a Touring Summer tyre designed to be fitted to Passenger Cars.
Tyre Reviews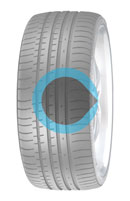 Sorry, we don't currently have any magazine tyre tests for the Capitol Eco 007
Sorry, we don't currently have any label data for the Capitol Eco 007
Sorry, we don't currently have any questions and answers for the Capitol Eco 007. Why not submit a question to our tyre experts using the form below!
Ask a question
We will never publish or share your email address
Have you driven on the Capitol Eco 007 tyre?
Have YOU got experience with the Capitol Eco 007? Help millions of other tyre buyers
Latest Capitol Eco 007 Reviews
Given
86%
while driving a
BMW 316
(195/65 R15) on
mostly country roads
for 20,000
average
miles
Grip and last really well; much much better on both accounts than the Dunlop BluResponses I had before. Grip well in the wet and very progressive. Very good value, too, at £40 each! Very pleased and will buy again.
Given
93%
while driving a
Vauxhall Astra VXR
(225/40 R18 W) on
a combination of roads
for 0
spirited
miles
Good Tyre before l converted my engine to a vxr, grip wet and dry. For price they did a very good job. Only changed due to a huge power change, and tyres did reach there limit, regardless to that they did well before changed with 272 hp.
I had these on a older car and found that they were a very cost efficient option, so when the tyres were due on my a4 3.0tdi i decided to have these installed at £90 a corner, so going from Michelin pilot sports 2 to these "cheap" tyres might sound ridiculous, but after about 10,000 miles they are wearing very well, they are great in the rain for resisting aquaplaning, these tyres coupled with the quattro makes gives brilliant launches out of sticky situations without any signs of wheel slip even in the wet!
Given
97%
while driving a
Vauxhall Astra 1.6 SXi
(205/50 R16 W) on
a combination of roads
for 500
average
miles
These Capitol ECO 007 tyres are very good. They perform very well indeed. I recommend them. They are available from a well known major chain of high street fitters and by a national chain of mobile fitters in their vans. And can be ordered from various tyre vendors on the web. I had a set of 4 new ones fitted a month ago by the mobile tyre company who replaced them at my workplace, (discounted for buying all 4 at the same time) replacing worn out Goodyear Eagle NCT 5 on my 2003 100K miles Astra Mk4 1.6 SXi hatchback. These were down to 2mm at the front and 3mm at the rear. I waited to cover 500 miles before writing this review, to get a good balance picture of how they perform. Those of you who have Astra Mk4`s will know how well they handle and how expensive the 205 50 16 size tyres are in comparison with the more common 205 55 16! So having driven on the Goodyear Eagle NCT 5`s for about 3 years the time came to replace them with a good performing tyre at the best possible price. The NCT 5`s gripped very well in the dry, but not so good in the wet, had to be very careful. The front pair were getting twitchy on wet white lines and throwing the car off course a bit. (Also, my SXi does not have ABS or traction control) Hence the time to replace them. Finding it hard to source used tyres because of the awkward 50 profile size and not being able to afford premium tyres I did my research on the web and visited a couple of tyre centres to ask questions and decided to buy a set of the Capitol ECO 007 tyres which cost approx half that of the premium branded tyre that has the same Fuel C and Wet braking rating B as the ECO 007. There was very little information on the web about them but what there was said the same thing, very good in the wet and a good tyre. Having now driven 500 miles on them throughout May and and now the 2nd week of June in the U.K. temperatures ranging from 7 to 24 degrees dry and some very wet days I can honestly say that I am pleasantly surprised that these budget tyres do provide great levels of grip. Not once have they lost grip on acceleration, braking or cornering, at any speed. Even in very heavy rain they felt like they were running in the dry! Amazing. They are Chinese but good. Apparently based or re-branded on Nexen tyres. Possibly one of their previous models?
For the technically minded of you out there that would like to know a bit more about this tyre they are a 4 grooved asymmetric ( says `Outside` one sidewall) steel radial with 7mm of tread depth new. They are W rated. Tyrewall info states `Temperature A` `Traction A` `Max Load 545Kg` `Treadwear = 320` (not bad compared to the NCT5 at 220) They are also E4 stamped. The moulding quality of the sidewalls and tread pattern is excellent. Not cheap looking at all. The tread compound is soft to the touch. They warm up very quickly too. The sidewalls are more flexible then the Eagle NCT 5 `s so they do give a smoother more comfortable ride at the expense of a little bit less immediate turn-in on fast corners but only by a small amount. Not quite a track day tyre. They are also a lot quieter than the Eagle NCT 5`s, a lot less road roar. Another effect I noticed straight away was the lower rolling resistance compared to the NCT 5`s, much better acceleration. Honest! The engine doesn't have to be revved as much to accelerate swiftly. On my car it is a marked improvement and one I didn't expect. I live in Milton Keynes, the `land of roundabouts`, fast roads and dual carriageways, so its a mixture of 60mph and 70mph limit sections and then negotiating another yet another roundabout. This is where my car is driven daily. If you need a new set of 205 50 16`s and cannot afford a premium tyre and don't want to buy part worn`s then you cant go wrong with new Capitol ECO 007`s.
Given
17%
while driving a
Vauxhall Corsa Sxi
(225/45 R17) on
a combination of roads
for 5,000
average
miles
cheap nasty tiyres from quick, over charged, for crap tyres not worth £61 fitted let alone the £90 each they charged me, insurance worthless, any excuse used to avoid claim, DO NOT BUY !!!!!!!!