The Evergreen EH23 is a Touring Summer tyre designed to be fitted to Passenger Cars.
Tyre Reviews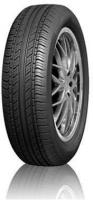 Sorry, we don't currently have any label data for the Evergreen EH23
Sorry, we don't currently have any questions and answers for the Evergreen EH23. Why not submit a question to our tyre experts using the form below!
Ask a question
We will never publish or share your email address
Top 3 Evergreen EH23 Reviews
Ford
(195/60 R15 V) on
a combination of roads
for 15,000
spirited
miles
Had these tyres on when i bought it,had no drama's in the wet or dry but i did run them at 34psi to stop the squirmy feeling (tyre walls a little soft) passangers noticed a little road noise i suppose i got used to it car is equipped with ESP ABS and only in icy conditions on a roundabout did the ESP kick in when the front end lost its footing but regained grip and no trouble. Wear no problem. Not a bad tyre in all fairness had all four wheels shod in EH23 Evergreens
Hyundai Tucson
(235/60 R16) on
a combination of roads
for 5,000
average
miles
Glad I read this review as I have a pair of Evergreen EH 23 on the rear of my 2006 Hyundai Tucson. They have been on for about six months, whilst they seem to perform OK I very much agree with other reviewers that these tyres are unacceptably noisy, I hadn't noticed it when first fitted but suddenly noticed a noise at low speed when the car had 4 adults in it, I thought I had picked up some stones which I had so removed these but it didn't cure the noise which seems to be getting louder, I was worried that something very expensive on the rear transaxle was wearing out, although it doesn't sound like a bearing but is definitely directly tyre noise at speed on a motorway it sounds like the rear windows aren't closed.
Peugeot
(195/55 R16 V) on
a combination of roads
for 30,000
easy going
miles
These tyres were recommended by my Peugeot dealer when the Michelin Primacy needed changing.

I'm not hard on my cars or tyres - I seem to be able to get reasonably close to the MPG of the manufacturers (my Pug is spot on the combined figure). They haven't given me any scary moments in the dry and in the wet they've been better than the Michelins.

After 30,000 miles there is about 2.5mm of tread left but the edges on all 4 tyres have "feathered" - I ran them at 32psi rather the 35psi (2.4bar) recommended by Peugeot which gave me a comfortable ride.

They are not the quietest tyre I've ever had, nor are they the noisiest. On smooth surfaces they are very quiet but if the road has projecting stone chips in the tarmac they can be noisy.

I've decided to change to Nokian Lines for my next tyre (arriving this week as the bad weather arrives), but I'd be happy to fit these again.
Have you driven on the Evergreen EH23 tyre?
Have YOU got experience with the Evergreen EH23? Help millions of other tyre buyers
Latest Evergreen EH23 Reviews
Very noisy tyre. Got 2 new EH23 for the front. Turned out to be unacceptably noisy so will replace them well before end of their life.
Given
53%
while driving a
Peugeot 407 sw
(215/55 R17 W) on
a combination of roads
for 10,000
average
miles
I bought these tyres to replace Michelin as the garage told me they were as good but were 50% cheaper. It was a no brainer for me to give this brand a try. In term of grip, wear, etc.. they are good but in term of comfort they are just plainly horrible through the noise they are generating over 30 miles per hour. They were OK for the first ~100miles, then they became noisier and noisier. The noise generated has now settled to a high grounding level which the kids at the back complain about it and which give me headhache after few 10s of miles on motorway cruising at 70mph!! To me, the noise level is simply unacceptable!! I'll never buy Evergreen again. I'll go back to Michelin, Uniroyal or Dunlop.
Given
47%
while driving a
Volkswagen Caddy
(195/65 R15 T) on
a combination of roads
for 10,000
average
miles
Found these to be a little vague on the steering with okay dry performance for a budget brand. In wet weather the performance drops off drastically where you find the tyres start to loose grip very easily. Now the winter months are here and have the wet and cold together I have found the performance dangerous at times in city and motorway traffic. If I have to brake hard the tyres loose grip easily and don't perform very well once the abs kicks in. These tyres may perform better on a car but with on a fully loaded van they don't perform well at all. Going to be glad to see the back of these.