The General G Max AS 05 is a Ultra High Performance All Season tyre designed to be fitted to Passenger Cars.
Tyre Reviews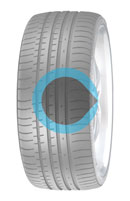 Sorry, we don't currently have any magazine tyre tests for the General G Max AS 05
Sorry, we don't currently have any label data for the General G Max AS 05
Sorry, we don't currently have any questions and answers for the General G Max AS 05. Why not submit a question to our tyre experts using the form below!
Ask a question
We will never publish or share your email address
Have you driven on the General G Max AS 05 tyre?
Have YOU got experience with the General G Max AS 05? Help millions of other tyre buyers
Latest General G Max AS 05 Reviews
Given
86%
while driving a
Toyota Yaris
(195/50 R16) on
a combination of roads
for 15,000
spirited
miles
Fantastic sporty daily driver tire. The turn is response in my experience is awfully alot like the Hoosier A6...its that tight. The tire is predictable and fast. I have raced competitively on these tires and they do well considering its not a race tire. Snow traction is manageable and decent given the sporty tendacies of the tires. If you know how to drive in the snow you can get by with these however they do not hold a candle to dedicated snow tires. So if you live in an area that sometimes like to throw a snow event after you take off the snow tires these are fine. Tire wear is well given the abuse I put them thru. The turn in response alone is worth buying the tire...the fact that its a really good all arounder is a plus. Will buy again...and again. I wish they had fitments to put on my other cars.
Given
79%
while driving a
Ford Mustang
(235/55 R17 W) on
a combination of roads
for 5,000
average
miles
I bought these tires for my 07 Mustang after the summer tires I had on previously "aged out", and I wanted a tire that I could leave on all year instead of swapping to winter wheels/tires and back as I had been. Previous to that were the stock Pirelli P Zero's. This is an inexpensive tire, and price played a big role in my purchase, as the car is a daily driver, not a race car. That said, I was blown away by the steering feel, and handling. Low noise, and decent comfort too. I avoid driving in snow with them, but they seem to deal with it fairly well, but obviously not a winter tire. I have the Gmax RS summer tires on my 2013 Mustang, and prefer the AS-05's in every way for road use, to the point that I'm probably going to swap out the RS's for some AS-05's.
These came on my car when I bought it. I destroyed the fronts autocrossing but the rears are just dying now. I've done about 40k miles on the rears and 12 autocrosses. When newer, the tires provided adequete levels of grip for the street and behaved well in the rain. When pushed to the limit they make lots of noise and inform you what they are doing. Steering feel is decent, definitely better than a budget all season. I would not recommend using these in snow, the BFG Sport comp 2 A/S is a much better UHP all season in the snow. The rain perfomance was decent when new, but when getting towards the end of its tread life the tire compound hardens and becomes sketchy in the wet. TL;DR great all season tire that lasts a very long time, just don't use it in snow. Would buy again for a daily.