The Joyroad Sport RX6 is a High Performance Summer tyre designed to be fitted to Passenger Cars.
Tyre Reviews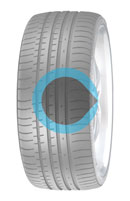 Sorry, we don't currently have any magazine tyre tests for the Joyroad Sport RX6
Sorry, we don't currently have any label data for the Joyroad Sport RX6
Sorry, we don't currently have any questions and answers for the Joyroad Sport RX6. Why not submit a question to our tyre experts using the form below!
Ask a question
We will never publish or share your email address
Top 3 Joyroad Sport RX6 Reviews
Given
59%
while driving a
Ford S Max
(225/45 R18 W) on
mostly country roads
for 2,000
average
miles
Not much good in the wet when pushing on, fwd car is keen to understeer.
Given
34%
while driving a
Nissan R32 GTST
(225/40 R18) on
a combination of roads
for 7,000
spirited
miles
Truly awful tyre. These were brand new, already fitted to my car when I purchased it and thought I'd leave a review for anyone considering them.
In the dry, the tyres have some (limited) grip, but screech horrendously as you approach anywhere near the limit. My car is fairly light and has had a recent alignment but this hasn't alleviated this. Dry feedback is poor and loss of grip happens without much warning.
In the wet, they are 100 times worse. Very poor traction for straight line acceleration, and lateral grip is even worse. The rear end breaks away with zero warning so I just assume I have no grip at any time.
Any cars with anything approaching a reasonable amount of torque is going to suffer from wheelspin or interference from traction control etc.
I wouldn't recommend fitting these tyres to any car; not a city car that rarely sees over 40mph and especially nothing going on a motorway or country roads. Budget offerings from other brands would blow these away and they are downright dangerous.
Given
53%
while driving a
Hyundai Accent
(195/45 R16) on
mostly motorways
for 10,000
average
miles
Had those already on the front when bought the car, has rim protection profile. In the dry it is ok. Wet handling is however a bit scary if you are pushing it. Not recommended.
Have you driven on the Joyroad Sport RX6 tyre?
Have YOU got experience with the Joyroad Sport RX6? Help millions of other tyre buyers
Latest Joyroad Sport RX6 Reviews
These came fitted to my fresh import - Nissan Elgrand E51 3.5ltr v6 with 250bhp and 4wd, It's a 2 ton van with plenty of grunt but these just don't feel safe at all. I imagine the importer got these for the mot as they are cheap. Original rear tyres are still on and those are Kumho Ecsta and are great, but I've got to change these asap as even in 4wd mode the front is very slippy and skittish. Not recommended at all!
My opinion is exactly the same as that of the Nissan R32 driver. I also got these new when I purchased a used Jaguar XF, and they're absolutely shocking. In the dry you wouldn't notice much when pottering around town, but it's clear that they are going to let go with little prompting because it's impossible to pull away briskly - such as when you need to pull into a gap on a busy roundabout - without spinning the wheels. The car has been checked for tracking, suspension, and the tyres for balancing and air pressure so everything is set up as it should be. As soon as it rains it's a completely different story. I pulled away from a standing start at said busy roundabout and the back end slid around. At this point I'm probably doing less than 20mph. As the other guy mentioned, when they let go there's no warning whatsoever, and in manual you'll struggle to pull away even in 2nd gear without spinning the wheels. My car is rear wheel drive and is a 3 litre V6 diesel, so does have plenty of torque and exactly as he said, you get no traction, wheelspin, no lateral grip and worst of all, no warning. I have to stress that this isn't on a spirited drive, this is just driving as you normally would. And this was in light rain with no standing water. These really are downright dangerous, people are going to get killed, and even as a driver with 340 years' experience and professional qualifications I refused to take the car out again for the next couple of days until my replacement Pirellis arrived. It's simple - don't risk your life or somebody else's to save a bit of money, because that's exactly what you will be doing and it's just not worth it.
Given
83%
while driving a
BMW 335i
(225/45 R18) on
a combination of roads
for 20,000
spirited
miles
Value for money
Given
74%
while driving a
BMW 335i
(265/30 R19 W) on
a combination of roads
for 28
average
miles
I'm on my second set of these tires. I have a 550hp rwd car and as long as I drive normal, the tires perform well. Under little boost, the tires do break away in the rain and a bit more boost, the tires break away on dry road. They have also lasted a good length of time. I dont track or "spirit" drive with the tires. I have another set of wheels and tires I run for that. For my application, I got my bang for my buck.