The Kleber Quadraxer 2 is a Touring All Season tyre designed to be fitted to Passenger Cars.
Tyre Reviews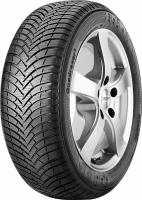 2021 Tyre Tests

2020 Tyre Tests

2019 Tyre Tests

2018 Tyre Tests

2017 Tyre Tests

2016 Tyre Tests
Sorry, we don't currently have any label data for the Kleber Quadraxer 2
Sorry, we don't currently have any questions and answers for the Kleber Quadraxer 2. Why not submit a question to our tyre experts using the form below!
Ask a question
We will never publish or share your email address
Top 3 Kleber Quadraxer 2 Reviews
Given
85%
while driving a
Skoda Octavia vRS
(205/55 R16 H) on
a combination of roads
for 3,000
spirited
miles
Nice tyres, I am surprised of their quiet. I live in the middle of the aurope and the reason of buying allyear tyres beside of winter tyres is warm winters, with lack of snow. At the rainy roads or wet roads they are not very grippy in comparision of my summer Hankook Prime3. I felt a little slide on rainy road at about +2C in the long curve when my wheel was at the middle road line. At heavy rains I found aquaplanning point quite soon, I think at lower speed than on Hankook summer tyres, but it learned me to drive more carefully in bad roadsconditions in cold weather.
I had a one opportunity (during this winter) to try Kleber in heavy snow in steap hills passing throught mountain road passage and i was nice surprised. At the road was continous few cms thick film of snow. I have always snow chains in the trunk but, it wasn´t neccesary to use them. I had a car load by 3 adult persons with full trunk, and I didn´t notice any markable hesitation. So I am satisfied for good value for the moneys.
Given
89%
while driving a
Dacia Logan
(225/45 R17) on
mostly town
for 1,000
average
miles
Nice tires,extremely good on snow and ice-very grippy, high aquaplaning resistance...Average in wet condition..
I got the 4 season Kleber Quadraxer 2 tire for in the winter months in Holland, they are very good tire's in the rain and winter conditions!
Have you driven on the Kleber Quadraxer 2 tyre?
Have YOU got experience with the Kleber Quadraxer 2? Help millions of other tyre buyers
Latest Kleber Quadraxer 2 Reviews
Given
83%
while driving a
Opel Corsa D 1.4
(185/65 R15) on
a combination of roads
for 17
average
miles
I've had these tires for over 3months but as a regular driver ive driven around 15/20.000km on them already. I have to say my last tires were worn out to the limit and so were my breakingpads. Getting everything new i would obviously notice a huge difference regardless. That being said. We havnt had snow this winter but on the more colder (just barely ice but still icy) and rainy days the tires are holding well to the road. Even at speeds around 150/160km on dry days. I would definitely recommend these tires if youre searching for a all seasons but are on a budget as these tires were around €51/€53. Would i buy them again? Yes and no, the reason being that the better tires will get cheaper by the time i need to replace them, if thats not the case and i couldnt find better tires around the same price range then i would buy the same tires without thinking twice. Good quality overall.
Fiat
(225/45 R17) on
a combination of roads
for 6,500
average
miles
Nice tires in mostly weather and road conditions Very good comfort Great value for money Much better than the OE Goodyear Vector gen 1
Given
60%
while driving a
Fiat Tipo
(225/45 R17) on
a combination of roads
for 7,000
easy going
miles
This is my first all seasons tyres set so I can't compare with any previously all seasons. I am definitely satisfied with the choice made with Quadraxer2. I chose all seasons tires mainly for the low annual mileage which does not justify 2 sets of tires. I find the behavior of the tires very honest and safe on all terrains and weather conditions but never driven on ice. I find that they have a good quality / price ratio
Given
84%
while driving a
Ford Focus MK3
(205/55 R16) on
mostly country roads
for 3,000
average
miles
Very very noisy on damp asphalt, huming sound. Good for lateral grip while xornering as expected due to pattern. All else - best all season tyre! Best buy/value 4 money
Given
94%
while driving a
Ford Focus
(215/50 R17 W) on
mostly motorways
for 2,500
spirited
miles
Normally I have a set of summer and winter tyres, but since the winters in the Netherlands are not that severe I deceided to buy beside the summer tyres all season tyres instead of winter tyres. Another avantage is that the time I will change them for the wider summer tyres is not that important. Standard my Focus (MK IV, 1.5 182 BHP) is eqquiped with 235/40-18 rims ET55, the std 17" has an ET of 50. Until now, I have driven the Klebers for approx 4000 kms and I am extremely positive about them. The all seasons are much quiter than the Conti Prenium Contact 6 tyres, more comfortable, but strangly the feedback is as good as the Conti's if not even better. After 4000 kms the wear is not noticible. Mechanic grip is superb, and in the wet I have't experienced any problems. In february their was a lot of snow and ice. Immidiateley a lot off traffic problems, but the Klebers managed the snow without any problems, only a few days later when the snow turned to ice the grip was not perfect, but still good enough. I can only recommand these tyres, they are much better then their price would indicate! By the way, Kleber is owned by Michelin, which should say enough.