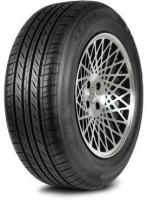 The Landsail LS288 is a Touring Summer tyre designed to be fitted to Passenger Car
Show All
Tyre review data from 29 tyre reviews averaging 71% over 169,000 miles driven.
Latest Group Test Results
2014 Test World Summer Tyre Test - 11th of 16 tyres
Positive - Short braking distances on wet roads, low noise, low rolling resistance
Negative - Nervous dynamic behaviour
Overall - The Landsail tyres become the main surprise of this test. On a wet surface, the tyre has a very short braking distances and good lateral grip. During emergency maneuvers the grip is high, but it can disappear abruptly, especially on wet surfaces. The tyres are also good in tests for noise and efficiency. Overall, Landsail become the Chinese tyre tested by Test World
2013 54 Tyre Braking Test - 41st of 54 tyres
View All Tests >>
Sorry, we don't currently have any label data for the Landsail LS288
Questions and Answers for the Landsail LS288
2016-04-08 - I am about to replace a set of tyres on my Hyundai Matrix, and my garage has recommended Landsail. My concern is that they are made in China. I say this because my experience of buying Chinese manufactured electrical goods has not been good in terms of quality - non-functioning after a relatively short time. What can you tell me about this brand of tyre which may increase my confidence to buy. Thank you.
While it is true some Chinese manufacturers produce low quality tyres, a number of them are now starting to produce acceptable mid range offerings. Landsail are one of those, but as always, be sure to check reviews of the particular Landsail tyre you're looking at, as the quality can still be quite variable.
---
Ask a question
We will never publish or share your email address
Top Landsail LS288 Review
Given
68%
while driving a
Fiat 500
(195/45 R16) on
a combination of roads
for 0
average
miles
I've put a set of 4 new of these after my factory fitted Goodyears EfficientGrip tyres. As a budget tyres I was expecting them to be much less grippy then my previous premium brand tyres but they aren't at all. They seem to have similar grip levels both dry and wet (they seem obviously more grippy then the Goodyears but they are new and my old tyres were seriously bald. Almost down to the canvas), they are definitely quieter and more comfy over road imperfections then Goodyears but the side wall is much more balloony and the car seems to have more body roll with these on. I think the side to side grip is better but breaking performance is a bit worse?

All in all they have exceeded my expectations by far and unless you are thinking about fitting them to a performance car, I don't think you can beat them at this price range (I've paid £50 fitted and balanced per tyre).

Excellent budget tyres.
Latest Landsail LS288 Reviews
Have you driven on the Landsail LS288 tyre?
Have YOU got experience with the Landsail LS288? Help millions of other tyre buyers
Got a pair, hard wearing, but they keep leaking since new although have been re-fitted 3 times but different garages.
Given
71%
while driving a
Ford Mondeo Titanium X
(225/40 R18) on
a combination of roads
for 6,000
average
miles
bought these as got recommended them , overall not a bad tyre for the price, only let down was the tyre walls, they started cracking after about 6000 mls , and slow leaked air due to it ,had to blow them up ones a week, now replaced them with better tyres
I bought the car with budget tyres one all corners, the rears were Zeta that were around half worn, they were lethal in the wet and would let go without warning, honestly, they were evil! fitted these Landsail 288's and it was transformed, they grip well wet or dry, they're quiet, and seem to be wearing very well, I'd recommend them, great so far, will be fitting a set to the front soon.
Given
94%
while driving a
BMW 330d SE
(225/45 R17) on
a combination of roads
for 15,000
easy going
miles
I have been really pleased with these tyres. Previously I have always purchase premium tyres (Michellins; Continentals etc). These tyres do the job. The Continentals used to 'tram line'. These do not. The car (BMW33d) steers far better, and they are lasting much longer. I was very nervous about moving away from premium tyres, but am really pleased that I did. Road noise is probably higher, but they were a fraction of the price about 30%!), steer better & are lasting far longer.
Given
40%
while driving a
Skoda Fabia 1.9TDi
(205/45 R16 V) on
mostly motorways
for 6,000
average
miles
Very poor tyres. Had them just under 3 years. Still loads of tread left on them but there are loads of cracks now to the point where I am having to replace. My advice don't buy cheap they don't last.