The Nexen N Fera Primus is a Premium Touring Summer tyre designed to be fitted to Passenger Cars.
Tyre Reviews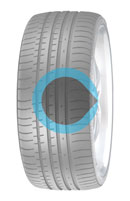 Sorry, we don't currently have any label data for the Nexen N Fera Primus
Sorry, we don't currently have any questions and answers for the Nexen N Fera Primus. Why not submit a question to our tyre experts using the form below!
Ask a question
We will never publish or share your email address
Top 3 Nexen N Fera Primus Reviews
i fitted these tyres a week ago. my braking became worst than the falkens i had fitted (ziex 914 , 185/60R14) . I will get back to report wear and wet performance. keep in mind that they are noisy no matter the km/h 50 or 150....
Given
95%
while driving a
Kia Motors ceed
(225/45 R17) on
a combination of roads
for 1,000
easy going
miles
Bought those tyres to replace a set of Michelin Primacy 3s that came new with the car. These are also XL tyres. Price was very decent. 51€ per tyre. After installing the tyres car felt immediately smoother and softer. Also quiet. Michelins were quite hard, crashy and made unbearable noise. Now going over bumps does not make me flinch any more. Also, gone is the tramlining effect old tyres had. Any imperfections in the road were directly translated to my steering wheel being yanked left and right. No more. Grip is magnificent, braking feels confident and smooth. Even saw some snow with them. No problem at all. Since this is an initial review and I have not gathered a lot of miles with them, I can't say much about wear. Initial tread depth was 7mm. I measured. Fuel economy feels unchanged.
Mazda
(195/45 R16) on
mostly town
for 4,000
spirited
miles
I upgraded to 16 inches wheels and I was shopping for tyres for my mazda 2 which is a very light car, so the XL rating it's a bit overkill for it and this affects comfort adding more sensitivity to every small imperfection of the road already compromised from the lower sidewall height. The tyre itself it's very advisable for the car because the significant dry grip and cornering precision, being ligher than the stock one and having a better fuel economy rating i kept the unsprung masses almost identical (but measuring from a completely worn tyre!). The feedback from the road at the limit is excellent in dry, lower and noticiable on wet, but never unsafe. Talking about wet grip and hydroplaning resistance i've owned better tyres, I run the tyre pressure 2 psi higher than what mazda advises tbh (for my suspensions going under 34 front and 32 rear causes a reduction in comfort), and the context of use it's not always ideal (11 degrees °C or lower) and maybe for this even with an underpowered car like mine I can slip at startup sometimes. When the wheather is hot they heat up very quickly and the pressure rises a lot, lowering comfort , increasing noise and reducing the contact patch resulting in dangerous longer braking distance. But all of this recovers if you study the right pressure for you needs which is nor the one on the door sticker, neither the one from the manufacturer.
Have you driven on the Nexen N Fera Primus tyre?
Have YOU got experience with the Nexen N Fera Primus? Help millions of other tyre buyers
Latest Nexen N Fera Primus Reviews
after 2 months of installation in the clio ii 12 16v i have to say that i am AMAZED about their wet performance, specially while braking. a little bit more noisy than the falkens i used to have but bearable.
Given
99%
while driving a
Kia Motors ceed
(225/45 R17) on
a combination of roads
for 10,447
easy going
miles
Second review to complement my first review of those tyres. The summer season has passed and I have replaced summer tyres with winter tyres. Everything said in my first review stands - the tyres are very good. Magnificent grip, confidence inspiring and no surprises. Quiet, comfortable etc. I have more information about fuel consumption - they are worse compared to Michelin. Although my driving profile has changed a bit, I've done more city driving and less long distance, average fuel consumption has increased since Nexen tyres were installed. Wear is great - after the summer season I measured 6.5 and 6.2mm tread left on rear and front tyres. Initial tread depth was 7mm. With this rate of wear, these could easily go 50 000+ kilometres. Please note, my stated mileage in this review is not miles but kilometres. I ran the tyres on 2.4bar cold pressure since car's recommended 2.2bar felt a bit soft and wobbly. 2.4 and above and they are great.