Safer and more economical - through technical leadership. Short braking distances on snow-covered surfaces, high safety when driving on snowy curvy roads, short braking distances on icy surfaces.
This tyre replaced the Semperit Speed Grip 2 and this tyre has been replaced by the Semperit Speed Grip 5.
Tyre Reviews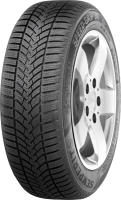 2021 Tyre Tests

2020 Tyre Tests

2019 Tyre Tests

2018 Tyre Tests

2017 Tyre Tests
Sorry, we don't currently have any label data for the Semperit Speed Grip 3
Sorry, we don't currently have any questions and answers for the Semperit Speed Grip 3. Why not submit a question to our tyre experts using the form below!
Ask a question
We will never publish or share your email address
Top 3 Semperit Speed Grip 3 Reviews
Given
83%
while driving a
Volkswagen Golf
(205/55 R16 T) on
a combination of roads
for 1,200
easy going
miles
very quiet and comfortable. one of the best options for that price.
I bought the tires after some of your encouraging tests and I was amazed.
They excel above all on wet ground (they have a few thousand km) in comfort, rolling resistance ; on dry give a good feedback and lose grip progressively without surprises. They are my first winter tires on a sport car so I don't know how much the merit is of the tires and how much of the trim by Peugeot Sport!
( written with help of G.translator Ita/En )
Very good tyres either on wet, dry and snow. Quiet and comfortable.
Have you driven on the Semperit Speed Grip 3 tyre?
Have YOU got experience with the Semperit Speed Grip 3? Help millions of other tyre buyers
Latest Semperit Speed Grip 3 Reviews
First season with them. Had on previous cars past generations of this tyre. Was very satisfied by them especially Speed Grip 2. Now, last winter, with Speed Grip 3 had the oportunity to go twice to the mountains. Over 1000 m there was snow on the road, 5-10 cm, car went with no problem uphill. The only problem was when you try to move from 0 km/h in ramp, but that's because of the car, RWD. When I wanted to change tyres at the end of March, movement restrictions were aplied, so I changed them one week ago. They perform well also at +20 C, at emergency brake they are a little soft.