The Toyo Snowprox S954 is a Premium Touring Winter tyre designed to be fitted to Passenger Cars.
This tyre replaced the Toyo Snowprox S953.
Tyre Reviews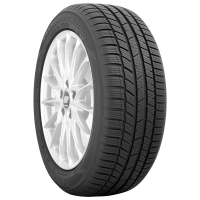 2021 Tyre Tests

2020 Tyre Tests

2019 Tyre Tests

2017 Tyre Tests
Sorry, we don't currently have any label data for the Toyo Snowprox S954
Sorry, we don't currently have any questions and answers for the Toyo Snowprox S954. Why not submit a question to our tyre experts using the form below!
Ask a question
We will never publish or share your email address
Top 3 Toyo Snowprox S954 Reviews
Ford
(205/55 R16 H) on
a combination of roads
for 2,000
spirited
miles
Great new winter tyre from Toyo, i am impresed so far. This tyre is rain tyre, but also very good on dry and snow. It gives good feetback on steering wheel, great handling at rain even at high speed (180 Km/h). For the price of 60€ each, belive me, there is no better...

As new very good on snow and very poor on wet. Never again.
I sold this tyres after one winter season and bought Continental WinterContact TS850.
Given
79%
while driving a
Volvo C30 1.8
(205/55 R16 H) on
mostly motorways
for 7,000
average
miles
For the price of about €55 each it's a good tyre.
In the wet the performance isn't that great, but it's OK. On roundabouts I had understeer several times, even at lower speeds.
However feedback is pretty good, you feel easily when the tyres are on their limits and you need to slow down.

In dry conditions the tyres are coping very well. Good grip, it all feels good.
In snow I've driven only once, and I didn't have a problem there.

Wear doesnt seem too bad, but I havent measured the exact wear yet.
The comfort seems to be better at first than it is now (After 10000km). The tyres seem to have become more noisy.
At this price point I think these tyres are unbeatable. I have had other winter tyres before, Goodyear Ultragrip 8, those were more silent, better in the wet, but the price point is higher. Just like Vredestein Snowtrac 2's back in the days.
I've also had cheaper brands which were worse. So at this price point they;re unbeatable and safe enough
Have you driven on the Toyo Snowprox S954 tyre?
Have YOU got experience with the Toyo Snowprox S954? Help millions of other tyre buyers
Latest Toyo Snowprox S954 Reviews