The Tristar Sportpower 2 is a High Performance Summer tyre designed to be fitted to Passenger Cars.
This tyre replaced the Tristar SportPower.
Tyre Reviews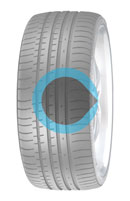 Sorry, we don't currently have any label data for the Tristar Sportpower 2
Sorry, we don't currently have any questions and answers for the Tristar Sportpower 2. Why not submit a question to our tyre experts using the form below!
Ask a question
We will never publish or share your email address
Have you driven on the Tristar Sportpower 2 tyre?
Have YOU got experience with the Tristar Sportpower 2? Help millions of other tyre buyers
Latest Tristar Sportpower 2 Reviews
I'm in the UK and owned these tyres for about a month and a half now. I haven't had to drive in any real serious wet roads as of yet. But dry conditions they seem to grip really well. I only have them on the front at the moment but have 2 ready and waiting to go on the back once they are needed. I honestly can't tell you about comfort as my cat has sports suspension and I feel every bump on any tyres lol. One thing I do love is how the lip of the tyre sticks out to protect the alloy wheel. In that rare instance where you curb the wheel. Something previous tyres I've owned have not done. It will make me happier to have all the alloys of my car refurbished now. (Previous owner damaged them) Tyre ratings Treadwear 320 Traction A Temperature A This seems to be a fantastically good priced tyre so far. But I will submit a new review in about 6 months with wet conditions all being well they last that long.
Given
90%
while driving a
Suzuki swift sport
(195/45 R17 V) on
a combination of roads
for 4,000
spirited
miles
usual have goodyear or dunlop but was interested in these due to have the sport power mk1s fitted when i got the car wow very good grip wet or dry.. floor the throttle in 1 st and 2 nd very little wheel spin very quiet and smooth straight and true well balanced tyre roundabouts you can play with the throttle very good wear driving on motorways probably one of the quietus tyre ever own £41 each oh my....