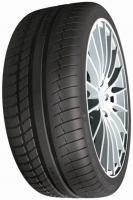 The Cooper Zeon CS Sport is a Ultra High Performance Summer tyre designed to be fitted to Passenger Car
Show All
Tyre review data from 8 tyre reviews averaging 87% over 42,500 miles driven.
Latest Group Test Results
2020 ADAC 18 Inch Summer Tyre Test - 15th of 16 tyres
Positive - Good in the dry
Negative - Relatively weak in the wet
Overall - Recommended
2016 Sport Auto UHP Summer Tyre Test - 7th of 8 tyres
Positive - Good balance in the dry, good wet grip
Negative - Long braking in the dry, poor resistance to aquaplaning, poor comfort
Overall - Conditionally recommended
2015 AZ 225/40 R18 Summer Tyre Test - 13th of 14 tyres
Negative - Long stopping distances, remarkable tendency to oversteer and low speed cornering on wet surfaces, low traction and braking in the dry
View All Tests >>
Sorry, we don't currently have any label data for the Cooper Zeon CS Sport
Sorry, we don't currently have any questions and answers for the Cooper Zeon CS Sport. Why not submit a question to our tyre experts using the form below!
Ask a question
We will never publish or share your email address
Top Cooper Zeon CS Sport Review
Given
91%
while driving a
Peugeot 508 rxh estate
(225/45 R18 W) on
a combination of roads
for 21,000
easy going
miles
looking at the other reviews for the Peugeot 508 RXH the 21000 miles I got from the Coopers was excellent and certainly better than the Dunlops I had on originaly. Very quiet tyres especially when new and never had any issues with grip in either wet or dry. I guess I am a fairly sedate driver, but at 50000 miles a year I have a pretty good idea what I am looking for in a tyre and will certainly by coopers againb
Latest Cooper Zeon CS Sport Reviews
Have you driven on the Cooper Zeon CS Sport tyre?
Have YOU got experience with the Cooper Zeon CS Sport? Help millions of other tyre buyers
Given
90%
while driving a
Ford fiesta st
(205/40 R17 W) on
a combination of roads
for 5,000
average
miles
Had Michelin PS3s on the front and these were excellent...…..only slight downside was wheelspin in wet if pulling away fast. One of the Michelin's scrubbed out so needed a new tyre. Company didn't have Michelin so bought Cooper Zeon CS Sport as had one already and was very impressed. Asked the company to switch the remaining PS3 from front to back and have CS Sports on the front. Very impressed. Lots of tread, including at the sides. They grip well in wet and dry. Some tests have scored lower for noise and/or comfort...….not so on my car ! Still have plenty of tread . Would recommend.
Given
89%
while driving a
Ford fiesta st
(205/40 R17 W) on
a combination of roads
for 5,000
average
miles
Changed a rear near side tyre from a Marshal to the Cooper Zeon CS Sport. Tyre replacement was owing to the Marshal having developed splits in the inner tyre wall. Note that I drive a Fiesta ST (2008) and I have 3 Michelin PS3s' (which are fantastic) on the other 3 corners. The garage didn't have a Michelin PS3 in stock and I needed a tyre immediately. They offered me the Cooper, which I had heard of but not had experience of. Where the Marshal was quite stiff and the back end of the car would slide if pushed round a roundabout or sharp corner the Cooper handles all this. Also, where the Marshal was quite noisy the Cooper is quiet and much more comfortable, especially over speed humps and the odd pothole that is impossible to avoid. I still put the PS3 above but the Cooper Zeon CS Sport comes a close second. Had the tyre for 8 months and great in dry and wet.....no issues to report. Tested and recommended by David Coultard (watch the You Tube video). Performs well with the PS3s' .......Very Happy with the tyre.
Given
82%
while driving a
MINI Cooper S
(225/45 R17 W) on
a combination of roads
for 1,000
spirited
miles
Switched from all-corners Continental SSR3 RFs to these, and the difference is almost day and night. Car is a lot less crashy with a lot less road noise, accidentally hitting potholes no longer make the car feel like it's hit a wall and the car feels overall much smoother. The Conti SSR3's warmed up quicker and felt more solid in harsh cornering, but for daily driving these are absolutely superb, especially coupled with the lifetime warranty.
Given
64%
while driving a
Mercedes Benz E220Cdi
(225/45 R17) on
mostly motorways
for 9,500
easy going
miles
I have to say mt Cooper Zeons grip the road well in most conditions, are very quiet and have had no impact on mpg. They exceed my previous Bridgestones in most areas except the elephant in the room, TYRE WEAR. On a quick visit to Mercedes for a free winter check they informed me I will need to replace my rear tyres soon, I thought that's strange, I have only had them 5 months and for just over 9000 miles, I shrugged it off as Sales speak. It was pouring with rain when I collected the car so could only check them the next day. They are almost worn down to the little tabs between the tread. How did that happen! Same driving style, same mpg, similar miles, the same roads. My last set of Tyres went well over 20k and he set before over 30k. The Coopers now ready for replacement at 10k absolutely Shocked.
Given
91%
while driving a
Peugeot 508 rxh estate
(225/45 R18 W) on
a combination of roads
for 21,000
easy going
miles
looking at the other reviews for the Peugeot 508 RXH the 21000 miles I got from the Coopers was excellent and certainly better than the Dunlops I had on originaly. Very quiet tyres especially when new and never had any issues with grip in either wet or dry. I guess I am a fairly sedate driver, but at 50000 miles a year I have a pretty good idea what I am looking for in a tyre and will certainly by coopers againb