The General AltiMAX HP is a Touring Summer tyre designed to be fitted to Passenger Cars.
Tyre Reviews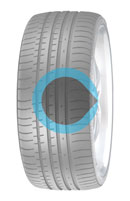 Sorry, we don't currently have any label data for the General AltiMAX HP
Sorry, we don't currently have any questions and answers for the General AltiMAX HP. Why not submit a question to our tyre experts using the form below!
Ask a question
We will never publish or share your email address
Top 3 General AltiMAX HP Reviews
Given
42%
while driving a
Volkswagen Passat
(225/45 R18) on
a combination of roads
for 10,000
average
miles
These tyres offer good grip in the dry and average in the wet. They have very weak walls and I have had 4 damaged tyres due to small pot holes. Very poor strength.
Given
23%
while driving a
Ford S Max
(225/50 R17 W) on
a combination of roads
for 8,000
average
miles
Fitted by local Ford dealer as new replacements - done just under 8000 miles and they need replacing already - budget tyres that really aren't worth the money.
Definitely not buying these again and not going to trust the dealership that sold them on!

Given
81%
while driving a
Opel Corsa
(185/60 R14 H) on
mostly motorways
for 37,500
easy going
miles
Good tires for those not interested in high performance tires and that has a easy going drive style.
If you are looking for a good tire that lasts very well, I think its a good choice. I used mine for 62.000km and still have rubber to do more 10.000km at least.
It has good grip on dry and curves and it could be a little bit better on wet, but nothing that bad.
Have you driven on the General AltiMAX HP tyre?
Have YOU got experience with the General AltiMAX HP? Help millions of other tyre buyers
Latest General AltiMAX HP Reviews
Given
44%
while driving a
Renault Scenic
(205/60 R16) on
mostly town
for 3,000
average
miles
Was persuaded to put these on when all my existing tyres were near the wear limit. Now had two suffer catastrophic sidewall failure within a few thousand miles. Sidewalls seem to be made of tissue paper! Easily the worst tyre I've ever come across.
Given
79%
while driving a
Audi A4
(205/60 R15 V) on
a combination of roads
for 12,500
average
miles
At the moment - good tyres.
Silent, good grip in dry, on some dust, in the wet and puddle of water on the road. And even in the pouring rain.
Very good in gravel road. But not good on garden grass (a lot of wheelspin). Comfortable and easy to drive. Feedback is good, but it could be better (like Michelin, Pirelli etc.)
But the main plus is that the the full set of NEW tyres (4 TYRES) costs 200 EUROS, so they are very CHEAP. For this reason, and for good grip and silent drive, I would buy them again, BUT,
I have only driven 20 000 km which is 12500 miles little over a year and tyres are worn little bit too quickly. When I bought, there was 8 mm of pattern. Now there is little below 5 mm pattern. For safe use, under 3 mm I wouldn't go. So I can drive about 10 000 km (6250miles) more. So these tyres last only 30 000 km/18750 miles and they are on 3 mm wear. Yes, you can drive them to 1,6mm, but this is too dangerous with rainy conditions.
They have m+s label on them, so you can use them in snowy condition too?

Given
86%
while driving a
Volkswagen Passat
(225/45 R17) on
a combination of roads
for 26,875
spirited
miles
Bought my tyres (UHP version) and have religiously rotated at every 10000km. Currently doing 43000km. Not bad considering the treadwear indicator is only 280.
They replaced a full set of Bridgestone Turanzas that had 3mm-4mm on them. The reason being the car was very twitchy on wet roads and I definitely had no confidence on icy roads with them. That changed completely on these tyres. Now before anyone says that this is an unfair comparison the tyres now have 3mm in front and 2mm in the rear. They too became nervous (only in the wet with standing water) at 3mm. Otherwise I am very happy with them.

I use the car equipped with them in all conditions and now that I am getting ready to replace them will definitely consider getting another set. After all this is really a Continental subbrand that I have done over 40000km with.
As member of the NTA and a general tyre dealer I was interested in sampling the Altimax on my Audi A4 TDI, having sold a number of it's big brother the Grabber. BF Goodrich came off the car and replaced all with the General. Instantly I could recognise the difference in performance with the soft side walls giving the car a very juicey feel around the bends. Performance on front is struggling to make it to 10k miles. Very close to budget quality tyre and will be trying the BFG G-grip in future.
Given
84%
while driving a
Citroën C4
(195/65 R15) on
a combination of roads
for 7,000
spirited
miles
Very good tyres for the price. Excellent dry and wet grip. Good resistance to impact and feedback. A bit noisy but I'd buy it again.
Given
79%
while driving a
Volvo V70 2.5
(225/45 R17) on
a combination of roads
for 0
average
miles
I can not say many bad things about these tyres, When it come to buying these they were a cheaper tyre compare to other tyre i.e bridgestone and continental's.

Not only are they cheaper they have performed much better then any other tyre i have driven on they are very good when it come's to wet weather compared to other tyres mainly because of there directional pattern. Also the very good feature i like is how if your not good with telling were the wear bars are or even understanding them it has a bit of text saying "Replacement Tyre Monitor" Which once wore down turn into "Replace Tyre" very neat extra.

But any way back to writing about the qaulity of the tyre, now sadly they havent got the best comfort in the world but to be honest it isnt to noticble but i rather and a 4 star comfort tyre and a 10 star wear tyre then a 10 star comfort tyre and a 4 star wear tyre. That the main and only draw back i can find with in these tyre now i found many people call this a mid range tyre to be honest place that sold them to me told me there a premium tyre and i 100% agree with them. I Highly recommend people to try these as i rate the highly and will carry on buying these over many other brands as like i said it says me alot of money and i get much better tyre.

Given
46%
while driving a
Peugeot 307
(225/45 R17) on
a combination of roads
for 30
average
miles
Guma je srednja zalost, vise zalost nego srednja, na mokrom lose skroz koci, proklizava pri kretanju, cak i u preticanju, 2-3 brzina zna pocet proklizavati..

Tyre is very bad on wet road, breaking is really poor with this tyres..