The Marshal Matrac MH11 is a High Performance Summer tyre designed to be fitted to Passenger Cars.
Tyre Reviews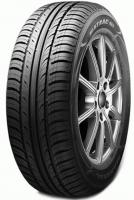 Sorry, we don't currently have any label data for the Marshal Matrac MH11
Questions and Answers for the Marshal Matrac MH11
2021-04-13 - What is the treadwear, traction and temperature?
Sorry, I don't have that data for the MH11 in any sizes.
---
Ask a question
We will never publish or share your email address
Top 3 Marshal Matrac MH11 Reviews
Given
76%
while driving a
Peugeot 1.4 HDi
(185/65 R15 T) on
a combination of roads
for 250
average
miles
Our local dealer did nor have size in khumo so recommended these for rear of my electrical van in xl and i did notice an increase of stopping distance @ first against the worn continentals .
But they have now worn in a bit and being a firmer rubber van not rolling so much and we don't speed in it , so should wear well on the bipper . Will see how they wear and if breaking distance improves when softened up a bit and less side wall bulge when van loaded with kit and ladders .
Given
52%
while driving a
MG MGF NON VVC
(225/45 R17) on
mostly country roads
for 10,000
spirited
miles
I had two of these tyres on my MGF they were on the front. The car tracked all over the Road, quite disconcerting! changed them to the rear and they behaved much better, however they seem to be constructed from very hard material and are useless in the Wet, beware.
Given
84%
while driving a
Citroën berlingo
(185/65 R15) on
mostly country roads
for 200
average
miles
hi i have only had these fitted a few days but i am quite impressed so far,i have just replaced dunlop after 14 months(13000 mls )which i was not very impressed with,there was a lot of road noise and not very good grip in the wet !I am very impressed with the marshal tyres i on the car at the moment at around ?20.00 less per tyre,will have to see how they go.
Have you driven on the Marshal Matrac MH11 tyre?
Have YOU got experience with the Marshal Matrac MH11? Help millions of other tyre buyers
Latest Marshal Matrac MH11 Reviews
Given
91%
while driving a
Honda Civic
(195/55 R15) on
mostly country roads
for 8,600
spirited
miles
I had these On my civic EK4 as a midrange tyre, and it really does do evrything, very very good dry grip on the limit, very good feedback and comfy ride, the only thing that lets them down is there not the best in the wet, but then no tyre is amazing in the wet, a really good all rounder tyre and a very good price, equally as good as the top named brands for a fraction of the cost, my next set of tyres will be matrac's! for the price and performance you cant beat them