The Michelin Latitude Tour is a Touring All Season tyre designed to be fitted to SUV and 4x4s.
This tyre has been replaced by the Michelin Latitude tour HP.
Tyre Reviews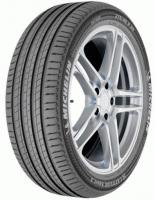 Sorry, we don't currently have any magazine tyre tests for the Michelin Latitude Tour
| Size | Fuel | Wet | Noise | Weight |
| --- | --- | --- | --- | --- |
| 205/65 R15 94T | C | C | 69 | 9.37kgs |
Sorry, we don't currently have any questions and answers for the Michelin Latitude Tour. Why not submit a question to our tyre experts using the form below!
Ask a question
We will never publish or share your email address
Top 3 Michelin Latitude Tour Reviews
Given
93%
while driving a
Honda CR V III
(225/65 R17 T) on
mostly country roads
for 3,000
spirited
miles
Had these tyres fitted just before Christmas to replace the previous Bridgestones which the vehicle came with. I live in a semi rural area and have to pass quarries, which make the roads very wet and muddy for a large part of the year. The tread pattern is more "car like" than the previous 4x4 tyres although these Michelins are M+S rated. The most instant changes I noticed were much quieter, smoother and much better cornering with the car feeling less "stodgy". The ride did feel slightly stiffer, which was a suprise as they are T speed rated and the previous tyres were H rated. The wet and dry grip is good and these tyres combined with part time 4WD easily coped with the 6-7 inches of snow we had.The tyres at £150 each were relatively expensive but with a 600 treadwear rating I expect to get at least 3 years(35-40,000 miles)out of them. Would buy them again.
Given
61%
while driving a
Ford Kuga
(235/55 R17 V) on
a combination of roads
for 40,000
average
miles
I am a struto-camel ... they have the m + s symbol, but they are not really winter (you can use them if the temperature does not drop below -5 degrees Celsius) ... after 20,000 km, they already seem consumed as the duration life ... I say that I have them mounted on the new car, so the car was equipped by the manufacturer ...
Given
80%
while driving a
Audi Q5
(235/65 R17 H) on
a combination of roads
for 0
average
miles
Just got these from friend who did not need them any more with about 70% of life left. I put them on my wife's Audi Q5 tdi. Compared to my previous Contis and Dunlops they seem to be pretty smooth and comfortable with good grip. However if you like a "wide" look while sticking to original dimensions be aware that these Michelins look much narrower than say the Dunlop sport . If you don't care about that then it's an excellent choice.
Have you driven on the Michelin Latitude Tour tyre?
Have YOU got experience with the Michelin Latitude Tour? Help millions of other tyre buyers
Latest Michelin Latitude Tour Reviews
Given
87%
while driving a
Honda CR V III
(225/60 R18) on
mostly motorways
for 57,000
average
miles
Have them on my CRV III since 2014! Done 90.000 km so far without an issue. They grip as day one, the sidewalls are a bit cracky but the tread is still fine that's why I have not replaced them as yet. Mostly highway kms but also some off road although not really tested on snow. Unbelievably quiet, still to day, never had a puncture nor air loss, simply outstanding tyres, will buy them again but cannot find the dimensions anymore, so I will have to settle either for 235/60/18 or 235/55/18.