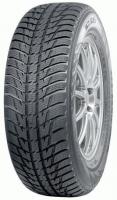 The Nokian WR SUV 3 is a Ultra High Performance Winter tyre designed to be fitted to SUV and 4x4
This tyre has been replaced by the Nokian WR SUV 4
Show All
Tyre review data from 17 tyre reviews averaging 82% over 145,000 miles driven.
Latest Group Test Results
2018 AZ SUV Winter Tyre Test - 3rd of 9 tyres
Overall - A third place for Nokian thanks you balanced and consistent results.
2016 AutoBild 4x4 Winter Tyre Test - 7th of 8 tyres
Positive - Low rolling resistance, good levels of comfort, short braking distances on dry roads, good aquaplaning results
Negative - Average grip in snow, average cornering grip in the wet and dry
2015 Auto Bild SUV Winter Tyre Test - 6th of 8 tyres
Positive - Very good in aquaplaning tests, short braking distances in the dry
Negative - Average steering precision, average ride comfort, long wet braking, expensive
View All Tests >>
2018 Tyre Tests

2016 Tyre Tests

2015 Tyre Tests

2014 Tyre Tests

2013 Tyre Tests
Nokian W RG2 SUV - 82%
| Size | Fuel | Wet | Noise | Weight |
| --- | --- | --- | --- | --- |
| 215/65 R16 102H | C | C | 72 | |
| 235/70 R16 106H | C | C | 72 | |
| 265/70 R16 112H | C | C | 73 | |
| 235/55 R17 103H | C | B | 72 | |
| 215/60 R17 100H | C | C | 72 | |
| 225/60 R17 103H | C | C | 72 | |
| 215/65 R17 103H | C | B | 72 | |
| 225/65 R17 106H | C | C | 72 | |
| 245/65 R17 111H | C | C | 72 | |
| 265/65 R17 116H | B | C | 73 | |
| 215/55 R18 99V | C | C | 72 | |
| 235/55 R18 104H | C | C | 72 | |
| 235/60 R18 107V | C | C | 72 | |
| 245/60 R18 105H | C | B | 72 | |
| 295/40 R20 110V | C | C | 75 | |
Sorry, we don't currently have any questions and answers for the Nokian WR SUV 3. Why not submit a question to our tyre experts using the form below!
Ask a question
We will never publish or share your email address
Top Nokian WR SUV 3 Review
Given
81%
while driving a
Mercedes Benz ML350
(270/40 R21) on
mostly town
for 500
easy going
miles
I've just put these on my Mercedes ML350 and managed to catch the first of the Scottish snow. So far I'm very impressed with all aspects of the tyres. In around 3cm of snow they were fantastic and gave me the assurance I'd decent rubber between me and the road. As the snow melted at the lower levels they were really good on the slush/rain and the drive was very comfortable. I fell the value and quality of these tyres is well worth this review, I'm sticking the WR D4 on my wife's C class next week let's hope they are as good as the latest WR SUV 3.
Latest Nokian WR SUV 3 Reviews
Have you driven on the Nokian WR SUV 3 tyre?
Have YOU got experience with the Nokian WR SUV 3? Help millions of other tyre buyers
Given
89%
while driving a
Toyota Hilux mk6 3.0
(265/65 R17) on
mostly motorways
for 10,000
spirited
miles
A very good tire, for normal winter driving at a very good price. Very good performance on dry and wet roads, have driven on motorways at high speeds with no problem on dry and wet. On compacted snow is also good, not the best but you would not have problems like getting stuck, also in deep fresh snow it is ok. it is slightly more intended for use on wet and dry roads at winter temperatures than on snow. have driven about 15.000km, and the is no visible signs of wear yet. For me is an excelent tire, even my Hilux is not a sporty car I can drive pretty fast in curves, and the Nokians WR SUV3 had always had high grip, especially being cheaper than other brands, and will surely buy again!
DON'T JUST LOOK AT THE SCORE BUT READ THIS. Felt really good when first installed and ran well for 2 years and 28,000 mile then started to get vibration so took in to Bathwick Tyres for balancing who found delamination split in both rear tires on inside sidewalk. Split around decal line almost a third of the way around. Although I liked them I lost confidence and replaced them immediately with Pirelli Scorpion. When I sent images to Nordic Tyres as I thought they might be interested in having them shipped back to to investigate, their response was that it is due to long running under inflated. This is not true I check my tyres relatively regularly and in my experience under inflation leads to visible outside sidewall scuffing. Bought from TyreLeader So could be older stock. Those with same tyres beware.
Given
69%
while driving a
Mazda CX7
(235/60 R18 H) on
a combination of roads
for 30,000
spirited
miles
Good tyre for general use. Excellent in winter, average on wet roads, good for aquaplaning. They at first wear quite fast, but as they age they become harder and wear less. With aging they perform worse on wet roads. After three winters an one summer they currently have 4mm of tread, but they are not safe for drive on wet roads. With 4mm tread aquaplaning resistance still quite high. Good value for the money paid, will buy again.
Given
97%
while driving a
Volvo XC60
(235/60 R18 H) on
mostly town
for 500
easy going
miles
I love these tyres. I know I haven't been using them for long, but every kilometer I passed with them was really good. Wet and dry performance is better than I expected ( this is the first time I am using Nokian ). They perform excellent in wet surface with soggy foliage.
We expect some snow this year, so I am truly eager to give them a try in more severe conditions ( -5°C/ -10°C and snow )
Will let you know how the tyres perform. I expect pure excellence since they were made for this kind of situation.
Tyre wear was not assessed this time.

First impression : I recommend Nokian SUV 3 and will most probably buy them again.