The Sailun Atrezzo 4 Seasons is a Touring All Season tyre designed to be fitted to Passenger Cars.
Tyre Reviews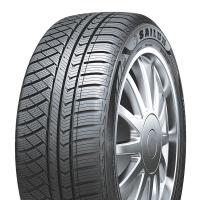 Sorry, we don't currently have any label data for the Sailun Atrezzo 4 Seasons
Questions and Answers for the Sailun Atrezzo 4 Seasons
2017-04-29 - Does this tyre carry the full winter mountain/snowflake symbol? And/or the M+S marking? I'm seeming different reports on different websites.
Unfortunately we don't have a contact at Sailun to find out whether the Atrezzo 4 Seasons carries the mountain and snowflake symbol.
---
Ask a question
We will never publish or share your email address
Top 3 Sailun Atrezzo 4 Seasons Reviews
After going through a front set of Bridgestones in 5000 miles and winter approaching decided to buy these 4 season tyres and am very impressed so far dry grip as good as bridgestones wet grip excellent noise level is very good and the tyres give good feedback to the driver can't comment on wear as only done about 1000 miles though still look like new, no regrets in buying this tyre and at £94 a pair bargain.
Given
47%
while driving a
BMW 320i Touring
(225/45 R17) on
a combination of roads
for 20
average
miles
I'm not sure if my Sailun winter tyres are the same but I've had them for 4 years / 20,000 miles and I now consider them dangerous. For some reason the car now slides on roundabouts and feels unstable on bends, despite the pressures being correct and the tread being only 50% worn. I first noticed this a year ago but having recently switched from my summer wheels the difference in the wet is far worse when it should be a lot better! Why is this?
Given
64%
while driving a
Ford Focus mk2
(205/55 R16 H) on
a combination of roads
for 6,000
spirited
miles
Fitted 12 months 6000 miles ago fonts now about 30 percent worn rears like new got me through 12 inches of snow black ice etc last winter and ok enough in the summer for a non sporty car was not expecting them to be this good for £200 a set fitted Chinese tyres will probably get another 2 years out of them if i swap them front to back very happy
Have you driven on the Sailun Atrezzo 4 Seasons tyre?
Have YOU got experience with the Sailun Atrezzo 4 Seasons? Help millions of other tyre buyers
Latest Sailun Atrezzo 4 Seasons Reviews
Given
83%
while driving a
Hyundai i30 CW CRD
(205/55 R16 H) on
a combination of roads
for 9,000
average
miles
I have been running these tyres for 12 months now on family hatch/small estate Hyundai i30. with varying loads from driver only to fully loaded with 5 on board plus camping gear. covered approx 9000 miles on the tyres. They are excellent. admittedly they replaced a pretty worn pair of Uniroyal rainmasters, but the transformation is fantastic. road noise is on a par with the previous and not particularly intrusive, the General Altimax at the rear are far noisier. handling is excellent in rain, dry, snow or ICE. we had a really heavy snow in teh welsh valleys this year and the tyres held their own, never once showing the traction control light. even in heavy snow or slush they just held, you could drive normally without worry. over the 9000 miles they have worn 2 mm, and still have plenty to give. Really cheap at £55 a corner. I also drive an Audi a3 and will be asking for these on that car when its due for a change. the dunlops on that were embarassing in the winter.