Continental ExtremeContact Sport
Tested to the limits by championship-winning racecar drivers, the ExtremeContact™ Sport satisfies even the most demanding driver. This dynamic, ultra-high performance street tire is built for car enthusiasts and engineered for extreme grip in dry and wet conditions. SportPlus Technology provides precise handling; security on wet, slippery roads; and excellent tread life.
Tyre Reviews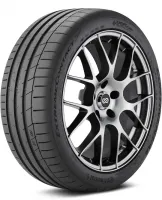 Tyre review data from 10 tyre reviews averaging 87% over 100,364 miles driven.
The ExtremeContact Sport is ranked 7th of 64 Summer Max Performance tyres.
Latest Tyre Test Results
2017 Car and Driver UHP Tyre Test - 2nd of 5 tyres
Overall - Senna at Donington. Hunt in Japan. ExtremeContact Sport in South Bend. Okay, the Continental can't make you a wet-weather hero, but it is the choice tire when both rain and pilot are driving hard. The Continental swept all three wet tests with big margins and showed the smallest performance drop-off between dry and wet tests. Chief among its waterproof virtues, the Continental maintains relatively high grip when the tire starts to slide, unlike the Pirellis and Goodyears.
The ExtremeContact Sport locked in second place with a solid performance in the dry, although not exactly threatening the Michelin. It delivers sharp steering precision that makes it feel alert and responsive when driven casually, but that quality fades when pushed past the limit in the dry.
Our ears registered louder thwacks compared with the competitors over the same cracks and expansion joints on-road—similar to the almost metallic clank of a bouncing basketball. But that's a small price to pay for exceptional wet grip and impressive dry performance. Plus, Continental asks only $164 for the ExtremeContact Sport, $34 less than our winner.
View Full Test >>
Sorry, we don't currently have any label data for the Continental ExtremeContact Sport
Questions and Answers for the Continental ExtremeContact Sport
2018-07-27 - Between Contisportcontact 6 and ExtremeContact Sport, which offers a better performance? Or which one is the sportier?
I don't believe they are available in the same markets, the ExtremeContact Sport is the North America version of the Sport Contact 6.
---
Ask a question
We will never publish or share your email address
Top 3 Continental ExtremeContact Sport Reviews
Given
96%
while driving a
Ford Mustang gt
(275/40 R19 W) on
a combination of roads
for 300
spirited
miles
Just had these put on 4 days ago and have already put on 300 miles and made a trip to the drag strip. My initial experience with this is that the lateral grip is quite impressive (10/10), and the longitudinal is very impressive as well, but could be just a little bit better (9/10).
I find them to be a bit on the soft side, which is excellent for my use since these are going to be used primarily for everyday driving; they'll soak up the bumps and undulations in the roads very well. (I have a separate set of wheels and tires for autocross and track use). Because of this soft tendency I wouldn't recommend them over the Michelin PS4S if you plan to use them for double duty. These Conti's are supposed to be even better than the Michelin's in the wet, but I don't have any first hand experience with this, so I can't comment.
Thus-far I am very impressed with these, and would absolutely recommend them for those looking for a good daily set of tires with maybe a couple autocross/short track sessions a year.
Given
89%
while driving a
Toyota Mark X
(225/45 R18) on
a combination of roads
for 35,000
spirited
miles
This is the best UHP tires I have tried so far. Dry and wet performance is as good if not better than Michelin PS4 with better tread life and no tread chipping issue that plagues PS4. The performance also remains good even nearing the end of the tread life at over 50k km. With price about the same or even slightly cheaper, the longer tread life makes this tire a better value for money than PS4.
Im always a continental user. 5yrs never tried other brand. So i wont be comparing with other brand. But i will review what and how i felt about this tyre compare to my previous tyre. Previously im using MC5 and each set of tyre atleast last for 1-1.5yrs. Quite good in dry and okay in wet but sometimes still get the understeer/oversteer and sometimes i still complain lol.
As for this ExtremeContactSport is just about 3-4 months/20-30k kms+- old. So i cant comment on its wear yet. But in term of performance wise, this ExtremeContactSport is way way better than MC5 in dry and wet. WAY BETTER. Theres no even squiking sound when corner or understeer/oversteer when i test it uphill Genting (Malaysia) on dry and after rain road condition. And using it as daily is not a problem as it still gives you the comfort you need. And im not complaining yet!
Nevertheless, based on the guy who suggested me this tyre, Michelin PS4/PS4s will still be the best no doubt, but this tyre will definitely give you enough confident that PS4/PS4s has with cheaper alternative by atleast RM150 (in malaysia). I wont recommend any tyre except Continental ExtremeContactSport or the best, Michelin PS4/PS4s.
Have you driven on the Continental ExtremeContact Sport tyre?
Have YOU got experience with the Continental ExtremeContact Sport? Help millions of other tyre buyers
Latest Continental ExtremeContact Sport Reviews
Given
79%
while driving a
Ford Mustang
(/45 R17) on
track
for 0
spirited
miles
Read my rant on wet tires over at Nankang NS-Sr. My first time on these was at Road atlanta endurance race in 2018. Feb. Coooold, Wet. Started off clear, nice, cold and dry, then dropped off. I was in the 1989 Ford Mustang when the weather changed. Im a bad weather driver! I loove the challenge. When the weather changes, Im in it to win. My theory is that everyone else is all checked up and driving at 50%. Time for me to turn up the heat ! I was very impressed with these tires. They enstilled a LOAD of confidence in the car. I was able to hold a higher speed in the corners and wait longer in the braking zone. With that said, this is where I gotta help explain a few things to you readers. Some would think that if they are designed to be a wet tire then they need to stick like glue or as if we were all in the dry. Not so true. Look at the F1 cars or IMSA LMP type cars in the wet. Although they do stick well to the track with their wet setup, they still break loose in cornering, braking, accelerating. You guys gotta keep that in mind. It aint gonna be 100% stuck to the track. During my racing stint, i looved the confidence that these tires inspired. While cornering faster than other cars, and upon exit, roll on the gas on the stock (200 hp) ford mustang and the tires would break loose slightly, make some steeering input, grab it and go, faster than the competition. THATS what these tires did for me. The Contis were NOT 100% planted. But still, I was able to do dance circles around the other cars, and Mustangs are known for dancing incircles (usualy by themselves in the grass, HAHAH) I loved these tires so much that i bought them for my daily 2010 Mazda 3. When its wet out, i still take the ON/Off ramps at 50+ MPH with confidence, grip and pleasure, No over steerin in the tail. In the Dry...Still 60+ MPH ON/OFF ramps. Great tires. We buy these for our 200 TW option in the Endurance racing in the US as a wet tire. Would reccomened to yall. Price isnt bad for what you get. I like'em.
Given
87%
while driving a
Porsche Cayman
(265/40 R18) on
a combination of roads
for 5,000
spirited
miles
Handled and rode very well. Still have half tread after a dozen track days but heat cycled out after about 10. Good value but will flat spot after sitting especially in colder temperatures. Needed rebalancing a few times
Given
89%
while driving a
Chevrolet Corvette
(285/40 R17 W) on
a combination of roads
for 10,000
spirited
miles
The Continental ExtremeContact Sports are a great tire if you want something that will give you about great road feel, highway drive ability, and wear that won't cause you to look twice and the manufacture date code. I should note that I do not do track driving, just long distance drives and canyon carving. Its a great tire that holds its own to the MPSS without the cost. I am not an expert driver, so most things I have thrown at these tires have been shrugged off. Even at the limit, the tires break gradually and allowed me to keep the car under control. I have had my current set of tires for just under 2 years now and I am going to need replacements soon (5k miles /year). Even though there is actually a decent amount of tread left, it looks like the rubber might be near the end of its number of heat cycles. I did not think I would get to this point with a summer tire that can do some rain driving as well, so I am def pleased with them. Are there better tires out there? Of course, but for a tire that's going to be used for off track driving, its a fantastic choice if you don't want to drop the cash for some Michelins (especially if you know you aren't really going to max them out anyways).
Given
80%
while driving a
BMW 335i
(235/35 R19 W) on
a combination of roads
for 1,000
spirited
miles
Came from iche Bridgestone S001 and Pirelli PZero 2015. Everything about this Continental Extremecontact Sport is so great. The noise is minimal. The comfort is so good as though my rim has been changed to 18". The grip on dry and wear is leading in this class except for the steering feel. Yes, it provides excellent road feedback and steering is much lighter.

HOWEVER, This tyre has soft sidewall which lacks of the immediate feedback THAT I got from Bridgestone and Pirelli. There is a milisecond delay when doing town driving but this goes away when im on the expressway. I travel UK M5 alot and this is what i found out. Because of this, ask yourself if immediate steering feedback is more important or comfort. I'm going for Pirelli PZ4 next summer.

Don't get me wrong. This is a 99/100 tyres. I just prefer my VW Golf R with Pirelli pzero 2015 which gives me instant steering feedback.
Purchased a sets of this Continental Extreme Contact Sport about 2 months ago, size 255/35R19. Been using it almost 10,000KM (6210 Miles). Excellent in dry grip at approximately temperature at 30 Deg Celcius (in Malaysia). I would give around 82% grip in wet condition at low speed and cornering (120 km/h) and 78% in medium speed (150 km/h). Road feedback is 78%, a bit soft but still can keep up with the speed when cornering. Comfortable, Yes.
I would choose either this current tires that I am using and maybe can compare with GoodYear Asymmetric 3 or slightly lower than Michelin Pilot Super Sport, which is my previous sets of tyres.
First tyre change from the michelin pilot sport 3, and itwas a bargain when i got these tyre. Based on the feel of the drive it seems to have better comfort than the ps3 however the roll resistance feels much heavier.

Haven't test on the highway and wet surfaces.