The Dayton D320 is a High Performance Summer tyre designed to be fitted to Passenger Cars.
Tyre Reviews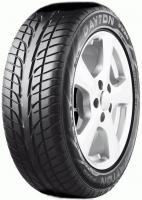 Sorry, we don't currently have any magazine tyre tests for the Dayton D320
Sorry, we don't currently have any label data for the Dayton D320
Sorry, we don't currently have any questions and answers for the Dayton D320. Why not submit a question to our tyre experts using the form below!
Ask a question
We will never publish or share your email address
Top 3 Dayton D320 Reviews
Given
49%
while driving a
Honda Civic 1.8
(225/45 R17) on
mostly town
for 700
average
miles
Since I have 2 of them on my front wheels my car goes right and it goes left but doesn't want go straight. It demands full time steering control which is most tiering on motorways.
Overall medium to good tyre. Price is great. Not for sporty drive but normal drive. Noise from tyre over 80 km/h and increasing whit speed.
Given
24%
while driving a
Toyota Camry
(225/45 R17) on
mostly town
for 3,000
average
miles
half of the tread has gone only after 5000km. Skip in wet day. The worst tyre I haved used.
Have you driven on the Dayton D320 tyre?
Have YOU got experience with the Dayton D320? Help millions of other tyre buyers
Latest Dayton D320 Reviews
Fiat
(185/55 R15) on
a combination of roads
for 0
average
miles
Not at all impressed with the wear on these Dayton tyres! Premature cracking all over on all tyres, not seen anything like this before on branded new tyres only 18 months in. Tyre fitters on the record tell me its to do with the silicon compound within the tyres & they are sound, off the record they tell me the tyres have lost there stability & they are crap! Don't buy Dayton tryes, why Bridgestone put there name to these I'll never know!
I had the Firestone Firehawk D320, which are now made by Dayton, the quality is the same. The tyres were really good for my style of driving, quite aggressive with a lot of maneuvers, on a 90bhp car. The tyres had excellent grip in the dry and I never lost grip in the wet, despite entering some corners pretty wildly :D
The wear was decent, considering the amount of braking and cornering.
For a sporty type of driving you don't care about comfort or noise, but for me they were quite OK on this department.
I will certainly buy them again and recommend them.
Given
78%
while driving a
Renault Laguna 3
(225/55 R16) on
mostly motorways
for 3,000
easy going
miles
I am using those tyres on my Renault Laguna III phase 2 for about 6 months. Easy going highway driving, destinations Sarajevo-Sofia-Istanbul, Sarajevo-Geneva, Sarajevo-Athens, or Sarajevo-Sofia-Bucharest. Do not get me wrong, I am very law obeying driver, no sanctions for the last 15 years at all, I keep the speed limits, and I seldom speed more than 140 km/h, sorry, this is my style. Have to replace my winter "Continentals", and the local garage in Sarajevo offered me this brand. Price is ~75.00 E/piece, mounting + balance included. Driving is perfect in dry or wet on highways, a bit more "bumpy" than my old Summer "Bridgestone Turanza"s, but this is felt exclusively out of highways only. Handling is good, fuel consumption in average is a bit higher than the Bridgestones", but not heavily damaging my pocket. I am leaving "progressiveness" & "wear" boxes just empty, cannot make a fair judgement for just couple of weeks. Also "by again" is empty - I like this brand, but could be that a cheaper brand will appear soon in my garage's stock, who knows? Bottom line - reliable tyre with great price/quality ratio.
Given
64%
while driving a
Ford Probe GT
(205/60 R15) on
a combination of roads
for 20,000
average
miles
Dry grip is nearly perfect. Sidewalls a little soft and wobbly. When it rains, the grip is easly lost.