Pirelli Cinturato All Season+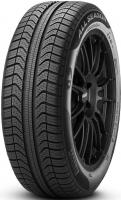 Sorry, we don't currently have any label data for the Pirelli Cinturato All Season Plus
Sorry, we don't currently have any questions and answers for the Pirelli Cinturato All Season Plus. Why not submit a question to our tyre experts using the form below!
Ask a question
We will never publish or share your email address
Cinturato All Season Plus Prices
Top 3 Pirelli Cinturato All Season Plus Reviews
Given
91%
while driving a
Honda Jazz
(185/55 R16 H) on
mostly town
for 10,000
easy going
miles
My partner Sue needed new tyres for her Honda and I suggested Pirelli all season tyres rather than a cheapo brand. Besides which there are not too my all season tyres available in 185/55/16 size.
After 18 months and over 10,000 miles of steady cautious driving they have been well worth the expense.
Proving their worth come hail, rain, snow, sunshine or blow.
Thank you Pirelli.
Given
66%
while driving a
SEAT Mii
(185/55 R15 H) on
a combination of roads
for 10,000
spirited
miles
Put almost 10k on these, in autumn, winter, and early spring, they are great, wet grip is pretty damn good, and even pretty quiet in the wet, wet braking isn't the greatest either, but it is predictable, so you can compensate, dry grip is okay, that's about it, they aren't sketchy at autobahn speeds, and still really quiet, dry braking is again okay, in general they are an okay tyre, but their major weakness is in the warm, as they give up a bit too easily, so any vigorous driving will show they aren't a "fun" tyre, and are really easy to get screeching and get the ESP light flashing.

in snow and ice they are brilliant, I really tried to get the back end out, but they held pretty firm, with no ESP intervention, and that's without lowering the pressure, they even held firm driving like an idiot on a snow covered motorway, and they were that good, they did give a smug feeling when driving past people still on summers in snow and ice.

from my perspective they work better as a mild winter tyre than as an all season, but summer will tell how they hold up when ambient reaches 30-40c, i'm not holding out for decent results, although with my driving the amount of miles i do i'm expecting they'll need replacing before winter.
Given
91%
while driving a
Alfa Romeo Giuiletta
(225/45 R17) on
a combination of roads
for 28,000
spirited
miles
This is a joint review of two slightly different generations, All Season and All Season Plus (front and rear axle) Chosen these Allseasons after brutally loosing grip on all four top summer tyres, on a damp and cold late autumn morning (no damage) They excell in both dry and wet, from -5° to 38° Lateral grip is flawless : lots of fast turns, they never lost it, very informing near the "edge" (Well, they lost it only once, in "summer ice" conditions, where any tyre would have lost it.) They kept their cool even on an emergency "moose test" style avoiding maneuver on a soaking motorway (had to avoid a car suddenly entering on my lane , less than 2m ahead, with the central wall on the other side... that was hot!) Flawless aquaplaning, seen lots of heavy rain on motorway. When they launched the tyre in 2015 they were insisting on it in articles, that's why I bought them. On the longitudinal grip: Can't talk of emergency brakings, never had to. Traction is good, barely lost it twice for less then a second, under brutal acceleration, almost unperceived. Snow: never encountered. But lots of motorway with frozen fog on both sides of the lane, no problem. Low noise, very impressive at first after summer tyres. Incredibly low wear, still having more than 5mm tread left, after 45000km, maybe because of the light car (1.3 tons) Allseason Plus (newest, more winter performance) seems to wear just a little bit faster (or less slower , to be precise) Anyway, they beat the previous summer tyres by far, those were worn to 2.3mm after the same distance. Most of it, I feel confident whatever the weather brings along.
Have you driven on the Pirelli Cinturato All Season Plus tyre?
Have YOU got experience with the Pirelli Cinturato All Season Plus? Help millions of other tyre buyers
Latest Pirelli Cinturato All Season Plus Reviews
Given
93%
while driving a
Toyota Corolla Altis
(215/55 R16 V) on
a combination of roads
for 2,500
average
miles
Remarkable tyres. Would definitely buy again