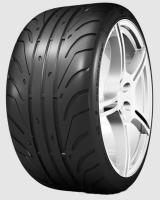 The Accelera 651 Sport is a Trackday and Competition Summer tyre designed to be fitted to Passenger Car
Show All
Tyre review data from 13 tyre reviews averaging 85% over 99,200 miles driven.
Sorry, we don't currently have any magazine tyre tests for the Accelera 651 Sport
Sorry, we don't currently have any label data for the Accelera 651 Sport
Sorry, we don't currently have any questions and answers for the Accelera 651 Sport. Why not submit a question to our tyre experts using the form below!
Ask a question
We will never publish or share your email address
Top Accelera 651 Sport Review
Given
90%
while driving a
SEAT Leon Cupra
(235/35 R19) on
mostly motorways
for 8,000
average
miles
very good grip treadware 100 do the job and i will buy again
Latest Accelera 651 Sport Reviews
Have you driven on the Accelera 651 Sport tyre?
Have YOU got experience with the Accelera 651 Sport? Help millions of other tyre buyers
When the tyre is new, its not grippy till its properly runned in. The tyre also takes longer to warm up compared to others same categories tyre, it doesnít overheat easily due to harder rubber compounds which also gives slower wear and more mileage to the tyre. Due to its extremely hard sidewall, even harder then ad08r, Its a heavy tyre. It performs well on wet, best ehp tyre on wet i would say. The dry grip is good but not on intensive driving style. The tyre will really grips when its properly warmed up, which is not easy unless you did a few warm up run before really whacking the corners. The feedback of the tyres is great that you can almost few every uneven surface of the road. Road noise not really if you has a loud car like mine :) If you would like the daily your car with a ehp tyre and not emptied your pockets, this is the tyre to go for. For the price of rm1300 for 4 265/35/18 itís definitely bang for a buck! Its one of the best budget ehp tyre out there in the market, worth a try if you are still new to ehp tyre.
Given
97%
while driving a
Audi rs3
(235/35 R19) on
mostly motorways
for 22,000
spirited
miles
extreme grip best semi slick tire i had
Given
96%
while driving a
Subaru BRZ
(215/45 R17) on
a combination of roads
for 13,600
spirited
miles
very quiet tire great grip unbelievable performance before i had toyo r888 it was very noisy and non comfort for sure i will buy again
Given
94%
while driving a
Subaru BRZ
(215/45 R17) on
a combination of roads
for 13,600
spirited
miles
very quiet tire for semi slick before i had toyo r888 that was very noisy great grip unbelievable performance good deal for the money for sure i will buy again
very good grip in wet and dry after 5 min warming no noisy at all and very good price im sure i will buy again