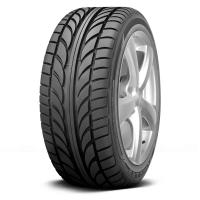 The Achilles ATR Sport is a Ultra High Performance Summer tyre designed to be fitted to Passenger Car
Show All
Tyre review data from 49 tyre reviews averaging 51% over 392,320 miles driven.
Latest Group Test Results
2012 Autobild 50 Tyre Braking Test - 29th of 45 tyres
View All Tests >>
Sorry, we don't currently have any label data for the Achilles ATR Sport
Sorry, we don't currently have any questions and answers for the Achilles ATR Sport. Why not submit a question to our tyre experts using the form below!
Ask a question
We will never publish or share your email address
Top Achilles ATR Sport Review
Wet weather? No. I have a 2008 Sti making about 250whp. In the rain it drives like it's rwd. It loses traction like no tomorrow. Now dry weather handling is quite surprising considering they at as cheap as they are. Probably would by again if I was in a money crunch and couldn't afford good high performance tires.
Latest Achilles ATR Sport Reviews
Have you driven on the Achilles ATR Sport tyre?
Have YOU got experience with the Achilles ATR Sport? Help millions of other tyre buyers
Given
65%
while driving a
Nissan Skyline V35
(225/40 R19) on
a combination of roads
for 15,000
spirited
miles
All the reviews you read here are true. Although they last well and are quite good on the dry the wet grip is terrible. Very easy to spin the tires coming from a stop (although fun when done on purpose) but loosing it on the wet and have even hydroplaned on a highway/motorway so I have absolutely no trust in them when there's any sign on water.
Given
39%
while driving a
Mazda 6 Series
(225/45 R19) on
mostly motorways
for 30
average
miles
Never again! Avoid those ones
Given
44%
while driving a
Ford ba falcon
(245/40 R18) on
mostly town
for 10,000
easy going
miles
I bought my BA11 XR6 with the tyres fitted, probably because it needed them for the roadworthy. Although it's a ute, I did not expect such poor rear grip. I swear the last time I had such miserable handling, the tyres were cross-ply! I'm not earning at the moment, so I can't afford to just throw away 12 month old tyres, but I am just waiting for the day when they are worn enough to ditch. To have such a nice car and have to drive it like a grandma is utterly frustrating. It's literally the only complaint I have with my 13yo car.
Given
33%
while driving a
BMW 535d M Sport
(275/35 R19 W) on
a combination of roads
for 300
spirited
miles
Avoid at all cost !!! I've recently bought a BMW 535D with these tyres on and the car is dangerous in the damp and lethal in the wet. I intend to get them changed asap before the traction control wears out as it's working overtime even under moderate acceleration. I hope this review saves lives !!!
Im using this tyre for about less than a year, the side wall start to crack. Not only 1 crack, but 3 cracks. At the price of this tyre, safety are not priority on this tyre. It was slippery during dry and very worst at wet road. I use this tyre as daily, using at downhill and wet road are the worst experience ever on this tyre. Plus, its quite noisy on dry road.