The Nankang AS2 is a Ultra High Performance Summer tyre designed to be fitted to Passenger Cars.
This tyre has been replaced by the Nankang Sportnex AS2 Plus.
Tyre Reviews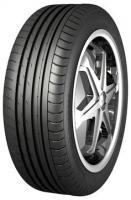 Sorry, we don't currently have any label data for the Nankang AS2
Sorry, we don't currently have any questions and answers for the Nankang AS2. Why not submit a question to our tyre experts using the form below!
Ask a question
We will never publish or share your email address
Have you driven on the Nankang AS2 tyre?
Have YOU got experience with the Nankang AS2? Help millions of other tyre buyers
Latest Nankang AS2 Reviews
Incredibly unstable due to the large water channels in the threads - making the rubber inbetween quite thin/small, and it flex. Very noticeable in high speed atleast and during hard braking, car squirms like a snake. And if road is uneven you have to countersteer for each lean the car makes. (by a small amount of course but noticeable)
Maybe not so noticeable on cars that already have this character due to soft suspension and high profiled tyres etc.
Given
89%
while driving a
Ford Mondeo Titanium X
(225/45 R17) on
a combination of roads
for 16,000
average
miles
Bought these at half the price of the main brands (my tyre size was coming in around £200 each for most makes).
To be honest, I've notice no difference in handling, grip or stopping ability at all compared to the 2 previous big brands I had.
And so far they've lasted twice as long on the front compared to the last pair.
Noise levels not bad either.