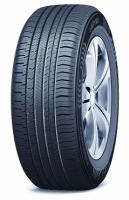 The Nokian eNTYRE is a Premium Touring All Season tyre designed to be fitted to Passenger Car
Show All
Tyre review data from 23 tyre reviews averaging 67% over 296,990 miles driven.
Sorry, we don't currently have any magazine tyre tests for the Nokian eNTYRE
Sorry, we don't currently have any label data for the Nokian eNTYRE
Sorry, we don't currently have any questions and answers for the Nokian eNTYRE. Why not submit a question to our tyre experts using the form below!
Ask a question
We will never publish or share your email address
Top Nokian eNTYRE Review
Given
81%
while driving a
Skoda Octavia Scout
(225/55 R17 V) on
mostly country roads
for 3,000
average
miles
Bought these all seasons for my Octavia 1.8T 4x4 Scout to give me some winter grip, but not going whole hog with new wheels / winter tyres. I had a ski trip to France planned and was wondering if they'd be a waste of money. I was really impressed. I got all the way up the mountain to 1600m with no fuss on ice and snow covered roads whist others were struggling with snow chains. They also handled the 1000kn each way on high speed French toll road with no real difference from the factory fitted summer tyres. Based on their price (£104 from Mytyre) and overall performance, I'd recommend them.
Latest Nokian eNTYRE Reviews
Have you driven on the Nokian eNTYRE tyre?
Have YOU got experience with the Nokian eNTYRE? Help millions of other tyre buyers
Given
71%
while driving a
Mercedes Benz s420
(225/45 R17) on
a combination of roads
for 2,000
average
miles
Unlike most reviewers here, I'm based in the United States. I wanted to give the eNTYRE a try as I've always heard good things about Nokian and I found them on sale on Amazon for an unbeatable price. Although it was very hard to find any domestic write-ups of these tires I was willing to take a chance for the price.

I drive a 1995 Mercedes S420, which is a big and heavy car, and these replaced a set of Michelin Primacy MXV4, which were worn down to almost nothing after about 50,000 miles. I had initially considered upgrading to the Michelin Premier, but as I said the price for the Nokian was hard to resist.

Anyway, thus far I've been very pleased with the performance. They were very easy to balance and run whisper quiet on the highway and are exceptionally smooth. Road feedback is good, and cornering is every bit as good as my Michelins were. Wet handling is also just as good as what I'd expect from my previous tires.

I've taken the car out in the snow just once with the Nokian, and was pleasantly surprised. This car isn't known for it's snow performance but the Nokians made it as competent as it could possibly be without dedicated winters.

The only downside is that these tires do seem to transmit bumps and imperfections more than the Michelins did. If you're on a smooth road they're dead quiet, but bumps are louder than they used to be. I've spoken directly to Nokian customer service and they told me that when the tires are brand new they'll be somewhat louder until they're broken in. Thus far they've been correct, as the noise as gotten better with more driving. But I still expect that even after break-in they'll continue to be at least marginally louder than the Michelins.

Overall I'm happy with the purchase and would recommend these tires. In reading the reviews here, I have noticed that owners with premium/luxury cars seem to give better feedback than owners of more economy-focused cars. Just an observation, but seems to bear out my experience as well.
Honda Accord
(225/50 R17) on
mostly town
for 80,000
average
miles
I purchased 2 for my 2009 accord and when I rotated them to the front they were very loud. Would not buy again. But very durable, they wear well
Given
71%
while driving a
Ford Galaxy
(215/60 R16 V) on
a combination of roads
for 15,000
average
miles
I am a big fan of Nokian.
I have been running eNTYREs for the last couple of years.
These were a compromise from full winters (have use WRG2's before).
These were perfectly fine in the dry.
They were actually pretty good in any snow we had.
However, they were not so good in the wet.
For that reason only I would probably not buy again.
Given
61%
while driving a
Volvo S80 T6
(225/50 R17 V) on
mostly motorways
for 24,000
average
miles
Although these tires wear well, they get noisy after about 15K miles. I would suggest something else probably Michelin.
Given
51%
while driving a
Skoda Octavia
(225/45 R17) on
mostly motorways
for 35,000
average
miles
Had these tyres for 2 years on a Skoda Octavia, I agree with earlier comments that the grip in damp/greasy conditions is awful, the car would readily lose front end grip on roundabouts at slow speeds which felt dangerous. Wear was good (35k fronts not down to indicators) however come MOT time both fronts had large splits on the inner tyre rims which I hadn't spotted so failed MOT and was told was lucky I hadn't had a blowout. Could just have been unlucky but never had this happen on any tyre before. Bought these originally for the snow performance which seemed ok but wont be buying again.