The Pace Toledo TL1000 is a Touring Summer tyre designed to be fitted to Passenger Cars.
Tyre Reviews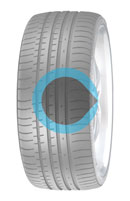 Sorry, we don't currently have any magazine tyre tests for the Pace Toledo TL1000
Sorry, we don't currently have any label data for the Pace Toledo TL1000
Questions and Answers for the Pace Toledo TL1000
2019-01-12 - Are these TL1000X tyres bi directional or directional? Recently fitted the curve groove on the offside is the opposite to the near side?
The TL1000 is an asymmetric tyre, so bi-directional
---
Ask a question
We will never publish or share your email address
Top 3 Pace Toledo TL1000 Reviews
This review is for Toledo TL1000 tyres 215/55ZR17 98W XL from SD International.
http://www.sd-international.cn/products/Toledo_pcr.html . I got my Toyota Avensis 1.8 CVT Estate second hand (ex Europe car hire car) and it had a pair of these on the front. Not knowing that much about tyres at the time I decided to put the same on the rear which had been the OEM Dunlop Efficient grip. At the point the car had done 42K miles. We mostly drive in London with the occasional long trip. For the price of around £40 a tyre you can't fault them. I can't do a direct comparison to other tyres on the same car but the wet grip and dry grip in warmer weather is very good. When it drops below 10C the tyres tend to harden up and being XL tyres and seemingly a hard wearing compound (7mm still on the rear after 4k miles) that probably isn't surprising. You are definitely going to get a bit better handling, comfort and safety with a £100+ tyre but I don't think you will find much more durability.
Given
64%
while driving a
Peugeot 306 HDI
(195/55 R15) on
mostly country roads
for 12,000
average
miles
Found grip wet and dry to be good. Fairly quiet tyre too, only downside is they only lasted 12,000 miles and driven sensibly... so based on quick wear won't be buying again..
Tyres came with a set of alloys I bought, they had quite a lot of tread left on them so figured why not use them until they're worn down. Fine in the dry but show them some rain and they let go very easily, two lots of understeering at relatively slow speeds on roundabouts later and they're getting replaced. Will maybe keep them as back ups for the summer but definitely not for wet weather or winter driving.
Have you driven on the Pace Toledo TL1000 tyre?
Have YOU got experience with the Pace Toledo TL1000? Help millions of other tyre buyers
Latest Pace Toledo TL1000 Reviews
Given
70%
while driving a
Audi A2
(225/45 R17 W) on
a combination of roads
for 2,000
spirited
miles
Had these tyres fitted on my mums car, she doesn't drive fast or hard so they're been pretty much perfect as they're long lasting. Last set of TL1000s lasted about 30,000 on the front and rears were still at 4-5mm. I am a keen driver myself (track experience ect in my own cars ) and at first I was a little put off by the low scores of the tyres, however when driving on them they were surprisingly good. The car grips well in the dry and handles ok. On back roads they make the little A2 quite a competent car and I have upset faster cars through the corners. Temperature is a big factor with these tyres, colder outside temperatures the performance drops of significantly. In the wet they're not as good, but in such a low power car they're not too overwhelmed. I haven't driven fast in the wet so I couldn't comment on their performance with speed in wet conditions. Overall surprisingly good given their low ratings, but are never going to compare to premium tyres.
Have had them fitted to my diesel fiesta for 4 years. Do motorway miles and they wear really well. Normally get 25K per set.
Good value for what they are.
Given
46%
while driving a
Mazda MX5
(185/60 R14 H) on
a combination of roads
for 8,000
average
miles
Came fitted fairly fresh on the front of a used MX5 MK1 I bought last year and I thought I'd run them through to the end of their life (the rear had similar mileage Uniroyal RainSport 3s fitted).

Pros:
- The wear level appears fairly low likely due to the hardness of the tyre compound. I'd expect mid to high 10k miles on a low power lightweight car with average driving.
- Decent straight line aquaplaning resistance, 70mph on motorways in the really wet without feeling too light on the steering

Cons:
- In the dry they are below average on nearly all handling remarks - squealing every time they get the chance
- In the wet it is questionable whether I'd be better off just running on the rim; my wideboy track semi-slicks are grippier and they're made from materials that are inherently afraid of water
- When fitted to the front they would under-steer minutes before the rear at hilariously low speeds and when fitted to the rear the car would turn into a spinning top

Summary:
I've never driven a car where the grip balance between the front and rear has been so hilariously different. I would strongly avoid these tyres if you live anywhere where the ground gets a little more than moist and strongly recommend that you spend that extra few quid getting a tried and tested tyre.
I would recommend avoiding this tyres. They come on a car that I bought and I did not know the brand. On the dry road they are just ok but whe it is raining they are dangerous. I have almost done a U turn while rounding a roundabout in the rain as the car lost control even at a low speed. I went to replace them and the garage told me these are one of the cheapest brands available. I'd recommend to spend a few £ more for something a little better.
Given
71%
while driving a
Ford c max
(225/40 R18) on
mostly town
for 1,000
average
miles
Good tyre, cheap enough, have a set of 4 on my car and it handles great but I have lowered the car.
Given
49%
while driving a
BMW 520d
(225/50 R17 W) on
mostly motorways
for 20,000
spirited
miles
Avoid these tyres. They are absolutely awful in the wet, I'd go so far as to say unsafe. I cannot trust the car at all in the wet. I have these on the front, fitted by the previous owner. They still have around 6mm of tread left after >20k miles, so they are extremely durable but that's only a good quality if they provide you with decent grip! I noted the speed these stopped gripping on a wet roundabout the other day: just over 20mph with a fairly gentle lateral load.
In fairness to them, the dry grip is not terrible, just a little spongey and feedback is fairly numb. Noise is reasonable but that might be more about the car than the tyre.
Despite having so much tread left, I will be replacing these soon for something that I can actually rely on in poor conditions - well worth £100+ a tyre in my view.
Vauxhall
(225/45 R17 V) on
mostly country roads
for 10,500
spirited
miles
Wet and dry grip are excellent for a budget tyre. Also very acceptable levels of road noise. However, on my Astra GTC the front pair are nearing replacement at just under 11000 miles, so not wearing well.