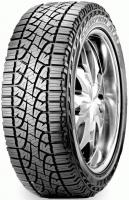 The Pirelli Scorpion ATR is a All Terrain and Off Road All Season tyre designed to be fitted to SUV and 4x4
Show All
Tyre review data from 18 tyre reviews averaging 90% over 511,605 miles driven.
Sorry, we don't currently have any magazine tyre tests for the Pirelli Scorpion ATR
| Size | Fuel | Wet | Noise | Weight |
| --- | --- | --- | --- | --- |
| 175/70 R14 88H XL | C | E | 71 | 8.14kgs |
| 235/75 R15 105T | F | E | 71 | 15.25kgs |
| 245/70 R16 111T XL | E | C | 71 | 16.74kgs |
| 185/75 R16 93T | E | C | 71 | 9.42kgs |
| 205/80 R16 104T XL | E | C | 71 | 13.32kgs |
| 235/65 R17 108H XL | E | C | 71 | 15.91kgs |
| 255/60 R18 112T XL | E | C | 72 | 17.52kgs |
| 255/55 R19 111H XL (LR) | C | C | 72 | 16.86kgs |
| 275/50 R20 113H XL (MO) | C | C | 73 | 19.17kgs |
| 325/55 R22 116H | E | C | 74 | 29.66kgs |
Sorry, we don't currently have any questions and answers for the Pirelli Scorpion ATR. Why not submit a question to our tyre experts using the form below!
Ask a question
We will never publish or share your email address
Top Pirelli Scorpion ATR Review
Given
96%
while driving a
Nissan Terrano II
(215/80 R15 T) on
mostly country roads
for 20,000
spirited
miles
The best tyre for my terrano II. Excellent grip off road, rocks mud and dry. Midle in grass and snow. Excelent on road dry condictions low noise for this type of tires. Very good on road raining situations especially stopping your car . Good in aquaplaning cornering and high speed cornering that are the two lowest situations of those excellent tyres. I strong recomend "the best tyre" on road-off road.
Latest Pirelli Scorpion ATR Reviews
Have you driven on the Pirelli Scorpion ATR tyre?
Have YOU got experience with the Pirelli Scorpion ATR? Help millions of other tyre buyers
Given
99%
while driving a
Mercedes Benz ML
(235/65 R17) on
mostly country roads
for 10,000
spirited
miles
Excellent on road manners queitest all terrain tyre I've used which still offers confidence in mud/snow very sure footed wet or dry excellent braking in the dry particularly nice input for steering and Wear appears excellent so far 10,000 miles also good puncture resistance will definitely buy pirelli brand tyre again for suv also fuel consumption very good with these tyres
Given
84%
while driving a
Toyota hilux
(265/70 R15) on
mostly country roads
for 55,000
spirited
miles
Run on a Hilux Surf, currently done about 90000kms and getting to the end of their life now. Just bought a Navara and will be putting a set of Pirelli atr's on that when due which will be soon 25000kms on originals (not impressed)
Given
89%
while driving a
Dodge Journey
(215/65 R17) on
a combination of roads
for 52,000
spirited
miles
Had these fitted to a Dodge Journey (7 seater SUV) with 25,000 on the clock

Now the car has 68500 miles on the clock and the tyres are still going strong. Lots of tread left and will most likely do another 20k miles with no issues

The car has been all over the UK, all around Europe , over to Slovakia in the snow and ice and over to Italy in the hot sun

The tyres performed perfectly every time no problems running off road either

I marked the wet handling down purley as in Germany on a greasy road the tyres didnt grip on a down hill hairpin/sliproad to the motorwaythis resulted in going straight on (almost onto the grass) instead of round the corner. Now was this the tyres or did I hit some grease/oil as I had just filled up 10 minutes earlier at the petrol station

either way I never experienced the issue again and Pirelli even sent out an engineer to inspect and test the tyre compounds at no cost to me

A great company and an extremely long wearing tyre good for 60k miles +
Off road grip better than expected Kent north downs clay and chalk tyres did not disappoint in these slippery conditions better than Bridgestone dualler off road the on road feedback trackingand noise levels are better than expected would dedefinitely buy again you do get a premium product at a premium price but comfort and grip levels make it a worthwhile investment your tyres are your contact with the road and these excel at what they offer
Given
94%
while driving a
Nissan Navara 3.0L V6
(255/60 R17) on
a combination of roads
for 40,000
spirited
miles
Great tyre for Nissian Navara utes or any other ute for that matter.
Just does not slide in the wet. If you drive over 60% of the time on the road this tyre is awesome - you can throw it around corners in the wet or dry with confidence. Wear is ok for +40,000km and does preform well off road. I think Pirelli GOT IT RIGHT.... this is an older tyre, has been around for more than 10years and other manufacturers are still trying to catch-up. I'm not interested in hard wearing 4WD death trap tyres which are dangerous in the wet and give you an extra 10,000km.