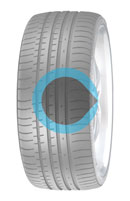 The Rovelo RPX 998 is a Touring Summer tyre designed to be fitted to Passenger Car
Show All
Tyre review data from 25 tyre reviews averaging 70% over 95,095 miles driven.
Latest Group Test Results
2017 Auto Bild Summer Tyre Shootout - 44th of 43 tyres
View All Tests >>
Sorry, we don't currently have any label data for the Rovelo RPX 998
Questions and Answers for the Rovelo RPX 998
2018-01-25 - where are rovelo tyres made?
Rovelo tyres are made in China by parent company Sailun
---
2020-02-18 - What is the tread depth on a new RPG 998 tyre.
Unfortunately I'm unaware of the starting tread depth of the RPX998.
---
Ask a question
We will never publish or share your email address
Top Rovelo RPX 998 Review
Given
87%
while driving a
BMW 330 Ci Sport
(255/35 R18) on
a combination of roads
for 2,000
spirited
miles
Bought full set for 220 pounds. Other priority makes are that much for one tyre. Had them on for only about 2K miles in various conditions in England and Wales so far - I am a very experienced and enthusiastic driver. MPG has improved from 29 to 34 average. Quieter and absorbing uneven/holed surfaces with greater comfort, but perhaps slightly less feedback. Grip is fine - I have no intention of attempting the lap record at the Nurburgring !

It was a risk - however I believe they are really good tyres for the money and I am very pleased with my decision. Definitely recommended.
Latest Rovelo RPX 998 Reviews
Have you driven on the Rovelo RPX 998 tyre?
Have YOU got experience with the Rovelo RPX 998? Help millions of other tyre buyers
Given
63%
while driving a
Ford Focus mk2
(215/55 R16) on
mostly town
for 4,000
spirited
miles
These came with decent tread on used but mint-looking alloys I swapped onto the Focus. I drove on them through this Spring and summer. I meant to swap back to steels and M+S in autumn but left it too late and had them on for a few days in the ~0C cold snap. I down-scored them on comfort even though they absorb bumps fine because of their noise. After the first day, I noticed this "whooh" drone. Not hugely loud, but constant from 30mph up and, once I heard it, I couldn't stop hearing it. Not wheel bearings; my garage reckoned it's the tread pattern. Noise gone now I'm on my M+S tyres. Dry grip and braking perfectly adequate for budget tyres, no dramas, not a lot of rain this year but similarly capable. When it got to
Given
81%
while driving a
SEAT EXEO ST TDI 170CR
(225/40 R18 V) on
mostly country roads
for 9,000
spirited
miles
Have a set of these on a Seat Exeo 2.0 TDi re-mapped to 184BHP. Wheel spins in the wet pulling out of concealed juntions as do all tyres since the remap, but the grip is good overall both wet and dry. £180 a set so four tyres for the price of two! 9000 Miles and it's time to rotate back/front.... but even if I don't it;s only £90 for two new ones fitted. These are great VFM and worth a try as they might not work well on all vehicles, these worked for me though on my SEAT similar to A4. Verry Happy,
tires don't handle well in wet conditions maybe alright on the back but not on the front
Excellent value for money. By rotating the tyres they last 40 000 Miles on my car with wrong wheel allignment. I would buy IT again.
Given
49%
while driving a
Audi A5 2.0 TDi (2017)
(255/35 R19 V) on
a combination of roads
for 2,000
average
miles
These tyres were fitted to an Audi A5 black edition coupe I bought. Although they are new. They are dreadful in the
wet. You cannot put any power on in a bend or you just slide. They also give wheel spin in wet conditions. I was a Police driver for 30yrs and would not recommend in the wet