The Sunny SN3630 is a Touring Summer tyre designed to be fitted to Passenger Cars.
Tyre Reviews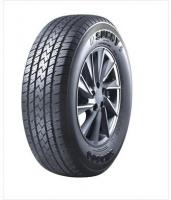 Sorry, we don't currently have any label data for the Sunny SN3630
Sorry, we don't currently have any questions and answers for the Sunny SN3630. Why not submit a question to our tyre experts using the form below!
Ask a question
We will never publish or share your email address
Have you driven on the Sunny SN3630 tyre?
Have YOU got experience with the Sunny SN3630? Help millions of other tyre buyers
Latest Sunny SN3630 Reviews
Bought my Golf MK5 GTI witht those tires. This car has 200HP. In the dry they have some grip but in the wet the traction control has to kick in every corner. Also with those tires it feels like the car is floating. The wear and price is good, but if you like to have a safe drive, dont buy those tires!
Given
84%
while driving a
Audi A3
(225/45 R17) on
a combination of roads
for 6,000
average
miles
Had these tyres on now for about 6 months they have done 6000+ miles, I have found them a very good tyre, showing no signs of wear at all.
They are however slightly more noisy than their replacement but Radio 2 takes care of that,would use them again to replace the rears that are wearing now.
I have not encountered some of the problems re wet weather grip like some others have, there again I dont drive like a "lunny", perfectly good tyres and excellent value for the price £44 fully fitted at Lindleys Arnold Nottingham, who I reccomend very highly.
Ed
Reluctantly purchased 2 for the front as a temporary fix. Noticed lack of wet grip compared with previous continentals and initial ride seemed spongy. I noticed no difference in fuel economy. Was less worried about punctures given the low cost.
Dry grip has been excellent and wear has become a talking point. These tyres are just about to pass 40 000 miles (more than I have ever achieved) and that is on the front. They are just off the wear markers so time to replace. These were nearly a third the cost of a premium brand and for me they have been outstanding value for money. I might have been lucky though - if the reviews vary the quality might vary too. The older Continentals on the back are also still going. They must be getting on for 50 000!
Given
47%
while driving a
BMW 328i
(215/45 R17 V) on
mostly town
for 5,000
spirited
miles
First you have to consider the going price for them, almost half of a decent economy tyre and a THIRD of a brand name high perf. So on that basis they are OK on the dry, if you dont expect laser steering and mega feedback. I suspect high levels of silica on the compound although they do not ride hard at all. Noise is kept in check too, and they can take a good pounding(think big pot holes)without ripping apart.

In the wet is where it all falls apart. You just have to relearn how to drive and keep speeds down (especially in RWD).

All in all, really cheap "decent" +dry weather tyres that are not going to give you any thrills neither break the bank. Also, due to the cheapness, awesome for hooligan driving ounce you learn their limits.
Given
27%
while driving a
Opel Astra H CDTI
(225/50 R17 W) on
a combination of roads
for 2,000
average
miles
I had no choice in this purchase, lease company did that.
Believe me, driving 1000+km's per week allows a person to develop a sense for the behaviour of the car.
These tyres left me feeling like I was floating on a foam-rubber surface!

If you HAVE the choice, please do yourself a favour - Choose something else!

Given
47%
while driving a
Ford sportka 1.6
(195/45 R16) on
mostly country roads
for 500
spirited
miles
I got these tyre put on when I had the car serviced, previously I had toyo proxes fitted to the car and even worn to a couple of mm of tread they had much better grip. The sunnys are so so in the dry, though are much more likey to let go as you near their limit. The sportka has no traction control so mechanical grip is a must, but with the Sunnys I have found the wheels spinning pulling out of junctions or round roundabouts even in the dry, something that shouldn't happen as the car only has 95hp, and something that never happened on the old tyres. If the road gets damp the grip levels drop off pretty quickly, braking is worse in a straight line but only a little. Mainly the problem is cornering where the grip levels are generally not great and the tyres can let go without much warning. Would not recommend to anyone with FWD for the front wheels of their car, you might get away with them on the rear. Could be ok for something like a RWD saloon doing motorway miles.
Given
80%
while driving a
Honda Prelude
(215/45 R17 W) on
a combination of roads
for 14
spirited
miles
I got these tyres as i need it some very cheap tyres, because i was very tight on my budget. I was very surprised by these tyres, very good road holding in dry, good cornering speed, better then average on wet roads, and in ireland its always wet. They arent as good under heavy acceleration on wet, my car just goes side way if i accelerate from roundabout heavy in wet. I drive 225bhp fwd car, and like to push it a bit. Mite be good on less powerfull cars. In recent snow they were very slippy. Iv done 19 000km, and wear is very good, but ill be changing them for uniroyal rain2, or conti sport 5 sometimes soon.