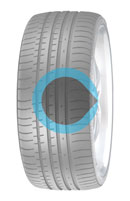 The Blacklion Champoint BU66 is a Touring Summer tyre designed to be fitted to Passenger Car
Show All
Tyre review data from 13 tyre reviews averaging 90% over 203,025 miles driven.
Sorry, we don't currently have any magazine tyre tests for the Blacklion Champoint BU66
Sorry, we don't currently have any label data for the Blacklion Champoint BU66
Sorry, we don't currently have any questions and answers for the Blacklion Champoint BU66. Why not submit a question to our tyre experts using the form below!
Ask a question
We will never publish or share your email address
Top Blacklion Champoint BU66 Review
Superb tires! I was persuaded to go for the Blacklion Champoint by my tyre centre based on their high labelling scores, A rated grip was what I was looking for after my previous set of 'Premium' tires let me down once too often. Instant improvemnt in my grip and handling after switching. Can't recommend highly enough
Latest Blacklion Champoint BU66 Reviews
Have you driven on the Blacklion Champoint BU66 tyre?
Have YOU got experience with the Blacklion Champoint BU66? Help millions of other tyre buyers
Mercedes Benz
(225/45 R19) on
a combination of roads
for 1,000
spirited
miles
Done lots of research on these tyres and went for them in the end, I wanted the runflats off my C43 as I hated them, wanted something comfortable but not to soft but with good performance without spending a lot of money as I had only just replaced a full set of conti runflats. I can honestly say they are absolutely brilliant tyres, I cannot fault them in any way at all, itís a 4wheel drive car and sticks far better than the Continentalís ever did wet and dry, the road noise is minimal and they have completely transformed my car for the better. I have had all leading manufacturers over the last 5 years I used to be a tyre snob and these will match and out perform most of them hand on heart. I have done launches and emergency stops to test them and they performed perfectly no wheel spin or skidding. 10/10 from me.
Bought a set of these for my yeti. Had Primacy 3s on original and always felt a littl skitty in the wet on bends, you never knew when they would give up cos they always felt like they would however hard you pushed them. The Blacklions are great. Had a pair on another car when purchased and since Iíve always had brand names decided to give them a few miles as they were new. Wow! Iím glad I did. Theyíve covered 8,000 miles and hardly show any wear. Theyíre predictable and grippy in the dry and no different in the wet. You can really throw them about. Iíve just put 4 on my yeti 4x4 140bhp and itís a different car. Easy to drive and feels totally safe on the road. Itís a more comfy ride and feels so much quieter and takes bends with ease at all speeds in all conditions. Itís a quiet, lazy drive now. Honestly, give them a try you wonít regret it!
Given
80%
while driving a
BMW 218d Active Tourer
(235/40 R19 W) on
a combination of roads
for 7,000
spirited
miles
I had these on the front of my BMW X3 when purchased. Never heard of them so thought I'd give them a go as they were new. Now done around 7000, wear is even with plenty of tread left. No issues but mostly dry driving in Southern Spain. Again no issues when it is wet even though the roads tend to be quite greasy.
Jaguar
(245/40 R19 W) on
a combination of roads
for 56,000
spirited
miles
Was recommend these by a friend who fitted them on his Jaguar XF 2.2 so iv just fitted 2 on the front of my 3.0 Diesel XF .last tyres i put on was Jaguar recommend Dunlops at great expense over 600 for set of 4. Tyres only been on a week and got to say i cannot see any difference in dry or wet grip, may be very slightly more road noise but nothing tp loud.i comment on wear yet as still new.would definitely recommend them and will be putting them on the rears when they are due.
Given
99%
while driving a
BMW 530d F10
(235/45 R19) on
mostly country roads
for 3,000
average
miles
These tyres are amazing for the price & so grippy in the wet & dry. Better than major brands by far that are double the price.& very quiet.