The Michelin X Ice Xi3 is a Premium Touring Winter tyre designed to be fitted to Passenger Cars.
This tyre has been replaced by the Michelin X Ice Snow.
Tyre Reviews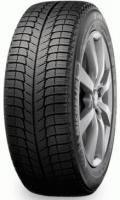 Tyre review data from 7 tyre reviews averaging 81% over 150,400 miles driven.
The X Ice Xi3 is ranked 26th of 40 Winter Premium Touring tyres.
Latest Tyre Test Results
2020 Consumer Reports North America Winter Tyre Test - 5th of 17 tyres
Overall - Strong winter performance, low rolling resistance, and a quiet ride are highlights of this tire. It gets a Very Good rating for resisting hydroplaning, and its Excellent rating for rolling resistance can help improve fuel economy.
View Full Test >>
2014 Test World Summer Tyre Test - 16th of 16 tyres
Overall - The Michelin X Ice Xi3 is a full nordic winter tyre. While this tyre scores extremely well in extreme winter tests, it is no match for the summer tyres in the warmer conditions, stopping nearly 15 meters later than the best summer tyre, and 6.7 meters after the worst summer tyre. This shows northern Europe winter tyres should not be used year round, despite their noise and comfort advantages!
View Full Test >>
Sorry, we don't currently have any label data for the Michelin X Ice Xi3
Sorry, we don't currently have any questions and answers for the Michelin X Ice Xi3. Why not submit a question to our tyre experts using the form below!
Ask a question
We will never publish or share your email address
Top 3 Michelin X Ice Xi3 Reviews
Given
86%
while driving a
Honda Civic
(195/65 R15) on
a combination of roads
for 50,000
average
miles
Very quiet, the quietest tire I've ever owned not just the quietest winter tire. Very good treadwear, driven at least 50000km and they're still around 7/32. Excellent in snow I've become a much more confident winter driver with these on my car. Also above average in regular wet and dry conditions
Given
50%
while driving a
Volkswagen e Golf
(205/55 R16) on
mostly town
for 10,000
easy going
miles
Used the X Ice Xi3's on a VW e-Golf; they are terrible winter tires. We continuously scratch our heads when we see these tires score well in tests as they are no better in snow and ice than a typical All Season tire. Ended up getting a different winter tire and running the x Ice as summer tires on the e-Golf. I actually tested the braking on the same icy section of road against cheap General snow tires and they took almost double the distance to stop. I then took my full size RAM pickup with Blizzak's on the same section and was able to stop slightly shorter than the VW with General tires. I'll never buy these again.
Given
86%
while driving a
BMW
(225/45 R17 H) on
a combination of roads
for 0
average
miles
Hello, my review come from Lithuania winter roads. I have bought these tyres in 2013 looking for best quality tyres and I chose Michelin X Ice Xi3 as premium brand and I used them for 5 winter seasons, now they are about 4-5mm still left(new was about 8mm). These were newest model and I wanted to invest to quality product, so I tried them on my BMW E61 530D.
These tyres work very good on icy roads from -0‎°C, at these temperature they become very stable and gives their best properties. Any accidents in 5 years of using, so I think they are pretty good. Grooves on these tyres are not very big, so deep snow would be a bit problem, but I driving BMW with rear driven and I never stuck in country snowy roads even. I recommend Michelin X Ice Xi3 for those who live in city, but sometimes have to drive country roads. They are soft rubber, but don't wear very fast even your car is more powerful than standart class cars.
I would buy different tyres next time just to try another brand
Have you driven on the Michelin X Ice Xi3 tyre?
Have YOU got experience with the Michelin X Ice Xi3? Help millions of other tyre buyers
Latest Michelin X Ice Xi3 Reviews
Given
83%
while driving a
Hyundai
(215/65 R16) on
a combination of roads
for 48,000
average
miles
These tires have been excellent. I live in Edmonton, Alberta, Canada, and these were my first dedicated winter tire, having switched from what we call an all-season. Weather here is consistently below freezing from early November through mid-March so the tires deal with a lot of deep cold on dry pavement (approaching -40 for the coldest weeks in January) and a lot of hard packed snow. The fall and spring see a lot of ice. The X-Ice Xi3s performed really well in this blend of deep winter conditions, providing confidence-inspiring traction. They provide enough traction that I don't feel the need to look at studded tires (especially considering the amount of dry pavement and snow we see because of the consistency of the cold, not a lot of ice like more coastal climates), and I'll certainly not go back to running one set of tires all year. What I'm most impressed with is the longevity I've got out of these tires, easily 10 thousand miles more than I expected, 15 thousand more than warrantied, and they're still performing decently near the end of their life (I'll run them for the first couple months of next winter and hope to replace them on a sale nearing Christmas). Traction has only decreased a small amount, and no noticeable change to NVH.
Vauxhall
(215/55 R17 H) on
mostly motorways
for 15,000
average
miles
X-ice xi3 are very confortable and quiet. I drove it for two mild winters. Looks like I will drive them two more.The wear is very low. I did lot of motorway driving in temperature range betwin 0 and 20 celsius and they look good as new. I would recomed them and would by them again.
Toyota Corolla
(205/55 R16 V) on
a combination of roads
for 15,000
average
miles
On xi 3 I never rode, but on xi 2 I passed four winters. It excellent tires for snow, wet snow, moist asphalt. I live in Crimea, here a winter rarely is snow, in the day-time often temperature 0+12, at such temperatures she behaves as a summer tire in summer, but at speed a to 110-115 km\h.
Given
91%
while driving a
BMW 328i
(225/45 R18) on
a combination of roads
for 12,400
spirited
miles
I have driven my car with these tyre 20.000km on my taxi, the tyre is good.
I like the way my car drive in dry grip, its a lot off grip in these winter tyres for the normal roads, the grips in the wet are very good from all other the winter tyre i have driven with, michelin is absolute a good tyre brand.
I have driven my car 20.000km with these tyres, its very good condition yet, like there were new, i will drive with these next year again.