The Mohawk M105 is a High Performance Summer tyre designed to be fitted to Passenger Cars.
Tyre Reviews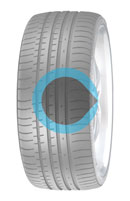 Sorry, we don't currently have any magazine tyre tests for the Mohawk M105
Sorry, we don't currently have any label data for the Mohawk M105
Sorry, we don't currently have any questions and answers for the Mohawk M105. Why not submit a question to our tyre experts using the form below!
Ask a question
We will never publish or share your email address
Top 3 Mohawk M105 Reviews
Given
46%
while driving a
Volkswagen Passat
(215/55 R17 W) on
mostly country roads
for 10,000
easy going
miles
These were the worst tyres I have ever had. They came on the car I bought second hand and I couldn't wait to get rid. They are very hard and ruin the comfort of the car. Poor grip in the wet. The only positive thing about them is they last forever.
Don't buy these!!

12 months (4,000 miles) down the line still with 7mm tread = MOT Failure. Several splits all the way round on the inner tyre wall.

These could have been V.dangerous afterall who checks the inner wall.

Just replaced the Mohawks today. They have been on the car over the past 3 years since May 23rd 2016, covering 50000mll till today, May 22nd 2019!
I'm very impressed with their performance, considering they were on the driving axle of my C220 CDI estate.
Overall value for money has been great considering I bought the pair of them for £106.- fitted.
Overall grip has proven to be more than adequate from this "budget" tyre and longevity has been astounding.
Have you driven on the Mohawk M105 tyre?
Have YOU got experience with the Mohawk M105? Help millions of other tyre buyers
Latest Mohawk M105 Reviews
Given
50%
while driving a
BMW 325i M Sport
(255/35 R18) on
mostly town
for 14,000
average
miles
On the rear of a bmw m sport 325i When I bought the car passed 1st mot But failed 2nd mot as split on inner wall Lots of tred left Hard wearing tyres Let down with splitting inner walls
Given
87%
while driving a
Ford Kuga
(235/50 R18 W) on
a combination of roads
for 3,201
average
miles
New front tyres to replace OE fitment Continental SportContact 5 at 14,734 mi mixed urban commute and motorway miles. Tyre depot had a range of tyres in 235 50 18 including all-season and winter. I chose a set of Mohawk M105 based on EU tyre label wet weather C rating mainly. Garage guy said it was a popular choice and hard wearing plus it was half the cost of Continental. So far so good with 3,201 mi of motoring on the Mohawks. Wet grip is good and more importantly handling is sharper over original fitment tyres. Dry grip and comfort same as Continental. Why pay more?
Given
80%
while driving a
Volvo S80 2.4 petrol
(225/50 R17 W) on
a combination of roads
for 4,356
average
miles
Bought a set of budget Mohawk M105 225/50 R17 tyres for my Volvo as I couldn't afford premium/mid range tyre brand this time. Garage recommended them on the basis that the local taxi drivers swear by them due to high wear rate (like Michelin) and low price. Garage said every big tyre company has one or more sub brands and Mohawk are made by Hankook. Very pleased so far. Tyres are made in China. Wearing better than previous Bridgestone's and wet handling is better too. Coped well in recent cold spell including snow and ice although ride comfort got worse in cold weather. I am happy to recommend this budget summer tyre for normal roads/daily commute/average driving style.