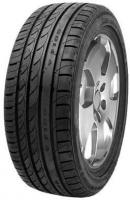 The Rotalla F105 is a High Performance Summer tyre designed to be fitted to Passenger Car
Show All
Tyre review data from 27 tyre reviews averaging 48% over 171,502 miles driven.
Sorry, we don't currently have any magazine tyre tests for the Rotalla F105
Sorry, we don't currently have any label data for the Rotalla F105
Sorry, we don't currently have any questions and answers for the Rotalla F105. Why not submit a question to our tyre experts using the form below!
Ask a question
We will never publish or share your email address
Top Rotalla F105 Review
I bought my R33 Skyline with these despicable tyres installed.
They are the worst tyres imaginable.

Any moisture on the road and they just slip, going round a bend at a moderate speed and suddenly your doing some super gangster drifting.

Its not just corners .....

Want to make people think your car has got something like a million horsepower and just cant get traction you need some of these.

Look at me I can do fish tails in 3rd gear .

Seriously though its bigger than this tyre review forum , bigger than the Internet, bigger than the both of us... its Rotalla trying to take over the planet by killing everybody with their teflon coated tyres.




Latest Rotalla F105 Reviews
Have you driven on the Rotalla F105 tyre?
Have YOU got experience with the Rotalla F105? Help millions of other tyre buyers
Given
100%
while driving a
Hyundai Tucson
(245/45 R19 V) on
mostly country roads
for 1,000
average
miles
I have only had these rotalla tyres for about a month they are superb hold the road wet or dry they corner well and anchor up well they are on the front of my Hyundai Tuscon 17 plate.
Cant fault them, I was slightly concerned about fitting them but my friend has done over 9,000 miles on a set and is very happy.
All these reviews that slate Rotalla tyres perhaps need to take their drving tests again.!!!
One of the Rotalla transporter tyres on my motorhome delaminated on the m40 at 55mph. Causing mayhem as the disintegrating tyre tore off wheel arches and sill sections. Major road safety concerns!!!
Given
40%
while driving a
BMW 535d M Sport
(235/35 R19 W) on
mostly country roads
for 10,000
spirited
miles
Driven for 10k miles on these, not the worst tyres in the world about the same accellera tyres. The only other tyres I've had on a car worse has been Autogrip p308s. Changed to Vredestein ultrac vorti and the difference is night and day no more understeer when cornering!
Given
38%
while driving a
Ford fiesta st
(225/45 R17) on
a combination of roads
for 0
spirited
miles
Did you want a tyre which is exciting, this is the tyre to go for, roundabouts become oversteer central in the wet even on a front wheel drive car. Great if you want to look like a knob driving round every roundabout in the wet, with the back of the car slowly trying to overtake you.
If you re tying to master lift off oversteer they are an excellent tyre to turn to, guaranteed sideways action in the slightest of damp conditions. Came on a car whenever purchased.