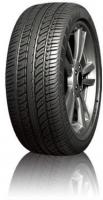 The Evergreen EU72 is a High Performance Summer tyre designed to be fitted to Passenger Car
Show All
Tyre review data from 45 tyre reviews averaging 67% over 359,710 miles driven.
Sorry, we don't currently have any magazine tyre tests for the Evergreen EU72
Sorry, we don't currently have any label data for the Evergreen EU72
Questions and Answers for the Evergreen EU72
2017-01-10 - I bought an Evergreen tyre labelled DOT KEBO AD J. Can you tell me the year it was manufactured? The usual 3- or 4-digit number is not written on it.
We suggest checking both sides of your Evergreen EU72, the numeric DOT code is a legal requirement and should be printed on the outside of the tyre.
---
Ask a question
We will never publish or share your email address
Top Evergreen EU72 Review
I travel some 40,000 miles a year and and have used a variety of tyre brands mainly premium, however having 4 Evergreen 2354517 tyres fitted was quite a surprise. When first fitted I was cautioned to drive carefully as these tyres are silica based and need to run a 'heat cycle' before pushing hard on them and to my amazement the tyres were superb in the dry and also in the wet unless you drive like an idiot too fast for the conditions. I suspect in many of these reviews the drivers are macho, men who think they know everything about cars and driving, so many drivers do not recognise a safe speed for conditions but do not have the mentality to admit it.( the accident rate in the UK proves my point) Evergreen well done a good premium product at an affordable mid range price as a fully qualified advanced driving trainer I do have a clue about this issue and also about tyres 56.000 miles on a set better that if you can.....
Latest Evergreen EU72 Reviews
Have you driven on the Evergreen EU72 tyre?
Have YOU got experience with the Evergreen EU72? Help millions of other tyre buyers
Given
84%
while driving a
Ford Kuga
(235/45 R19) on
a combination of roads
for 10,000
average
miles
This is my second set of Evergreen EU72. The initial set lasted over 50k and still had 3mm left. Dry and wet handling and grip are very good. Noise and comfort are pretty decent too. swapped from Falken FK510 and noticably better handling, noise and mpg. My previous set encountered snow and ice and with its chunky block pattern inside of the shoulder it managed these situations with no problems at all allowing me to do my 40mile commute through untreated A roads and country back roads with little trouble. I know they are a cheaper brand but i think they represent great value for money and more capable than most
Given
83%
while driving a
Mercedes Benz E320
(215/55 R16 W) on
a combination of roads
for 8
spirited
miles
Mine are 215/55 ZR16 and they are surprisingly good. When I bought the car they were equipped with some Kumho junk and the car would slide...all..the..time. in the dry and the dangerously in the rain. But with these Evergreens it is so much better. I have to really try and turn off traction control to get it to slide on the dry pavement. And in the rain it's pretty good as long as you don't gas it on a turn. So much better than the Kumho I had before. Replaced those within two months of getting the car and they were relatively new. I see some people say it has bad handling but I don't see it. The EU72 has pretty good handling, tho you do feel it close to slipping only on fast sharp turns, so basically only if you want it to. They are pretty quiet, but being ZR they are pretty hard and I do feel bumps in the road, doesn't help that I also need to replace my front Bilsteins. But it honestly doesn't bother me and is not really all that noticable unless you focus on it. Passengers have told me that it's a smooth ride. All in all I'd give them an 8.5/10 as long as they're ZR, the grip is superior.
Given
28%
while driving a
Audi TT 2.0 Quattro
(245/35 R19) on
a combination of roads
for 150
spirited
miles
Avoid like the plague if you value your car and your life! Just picked up a courtesy car with Evergreens all round, on the 15 mile journey home I had 4 incidents of losing grip, this tyre has no we performance. Hit the brakes approaching a roundabout at less than 30mph and took about 30 meters to come to a stop..... which happened to be in the middle of the roundabout in the path of a bus! lucky for me their tyres werent shocking as they were able to stop pretty quicky. I dont understand people commenting here who are saying they are as good as michelins or pirreli's.... which ones? you clearly dont corner with any conviction. My Golf R is fitted with Michelin Pilot Sport 4s all round and its different car than when it had continentals! A few weeks ago a BMW M4 couldnt keep up with me through the corners of a windy A-road (got absolutely smashed when the road straightened up though) but the Audi TT Quattro I have at the moment (a car that isnt missing mechanical grip) understeered at 20 mph! These tyres are a disgrace at any price. You get what you pay for here, £150 for a tyre made in France from the company that supplies the World Endurance Championship (think Le Mans 24Hr) or £50 for a tyre made from recycled plastic in China, a country that didnt have the technical prowess to manufacture ball bearings small enough to fit Biro pens until the turn of the century. Your tyres are the only thing connecting you to the road, its almost unfathomable that someone would put their own safety at risk, if you have a family you probably need to reassess your life. Enjoy the shocking tyres, ill see you in the ditch!
Tyres came fitted with the car. I assume the dealer bought the cheapest tyres on the market and fitted onto the car in order to sell the car quicker and. I've driven one season on them
I do not exaggerate by saying that they're absolutely rubbish. Bad road feedback although dry grip is not the worst. Wet is when these tyres become ditch finders. I literally pray for my life while I hold on to the steering wheel of an Audi Quattro if it starts to rain. Unfortunately I had to experience aquaplaning while overtaking a truck and I assure you that that's the closest I've ever come to death! Never ever have I experienced understeer like I do from these tyres
Mark my words and steer clear from these. There are other budget tyres like Goodride and Rotalla which are far better than evergreens. People that actually like these tyres either drive a shitty car or have never driven on Pirellis and Michelins so it's difficult for them to differentiate between what's good or bad.