The Nokian Hakkapeliitta R3 is a Premium Touring Winter tyre designed to be fitted to Passenger Cars.
This tyre replaced the Nokian Hakkapeliitta R2.
Tyre Reviews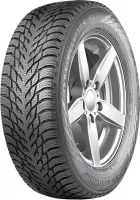 2021 Tyre Tests

2020 Tyre Tests

2019 Tyre Tests

2018 Tyre Tests
Sorry, we don't currently have any label data for the Nokian Hakkapeliitta R3
Sorry, we don't currently have any questions and answers for the Nokian Hakkapeliitta R3. Why not submit a question to our tyre experts using the form below!
Ask a question
We will never publish or share your email address
Top 3 Nokian Hakkapeliitta R3 Reviews
Given
90%
while driving a
BMW i3
(155/70 R19 W) on
a combination of roads
for 500
average
miles
I am running Nokian Hakka R3s on a BMW i3. I have had the tyres for about 3 weeks now. The weather has been cold initially but has gone back to being very mild. This sort of weather is where dedicated winter tyres can for want of a better expression slip up. Pleasingly the Hakka 3s are giving a level of grip well above my expectation in this mild and wet weather. In the dry too, this tyre is performing more like an all season tyre than a winter tyre.

I deliberately put the pedal down on one occasion much harder than I would normally do and the tyres started to lose grip. This however was the only time and it was a deliberate test. Otherwise on tight cornering and unexpected hard braking, the tyres have performed admirably in both wet and dry conditions. In the cold weather they are even grippier and have given a preview of their winter capability. I can now confidently look forward to some harsh winter weather to see how they perform.

The other thing of note is that they are incredibly quiet and are head and shoulders above the summer Bridgestone
tyres which are now off for the winter. I will revisit this review with my experiences in harsh winter weather but at present the Hakka 3 looks like a winner so far. Just be careful about pushing them too hard in mild and wet temperatures though.
Given
94%
while driving a
Cadillac CTS
(225/45 R17) on
a combination of roads
for 1,000
average
miles
I'm starting my 3rd winter with the R3. Living in the Toronto Canada area, winter can mean driving in rain, snow or dry freeways with temperatures being above freezing to -25C or lower. The tires give excellent performance regardless of the road conditions. With heavy rains I have never experienced hydroplaning on wet roads nor had any difficulty with traction while driving on snow covered roads. I am very happy with R3 and would not hesitate to recommend them to others.
I've been using these tires for 2 years now, in the dry and in the wet they are worse than a normal winter tyre, but they really shine when driving on slush and snow, giving you a huge advantage when going up a snowy road in the alps.
Have you driven on the Nokian Hakkapeliitta R3 tyre?
Have YOU got experience with the Nokian Hakkapeliitta R3? Help millions of other tyre buyers
Latest Nokian Hakkapeliitta R3 Reviews
Given
87%
while driving a
Nissan altima
(/45 R17) on
mostly motorways
for 1,200
spirited
miles
I purchased my Nokian Hakkapeliitta R3 tires for my AWD Altima SR. I wanted a tire that was good on snow and ice but also good on dry and wet too. I purchased them before a trip over an usually snow covered mountain pass. There was snow and ice of several inches and required chains for non-AWD vehicles. These tires were fantastic on the snow and ice. They performed beyond what I expected and when I came back from my trip there was a snowstorm in Seattle. I was extremely impressed by the performance on steep snowy hills. I would buy again.
Given
73%
while driving a
SEAT LEON 1.8TSI
(225/45 R17) on
mostly town
for 12,000
spirited
miles
Good tyres with a good grip on an ice road. Not enough road feedback on a dry road and higher speed.
Given
88%
while driving a
Audi S5
(245/45 R18 H) on
a combination of roads
for 7,000
average
miles
Excellent tire very good in snow and ice I also have Nokia's Hakka 9 SUV studded on my Tesla X can't beat it in our cold Canadian winter where I live 5 months of snow unbelievable traction on ice
Given
74%
while driving a
Honda Insight G1
(175/65 R14 R) on
mostly country roads
for 7,000
easy going
miles
The Hakka R3 has been phenomenal for my style of commute mostly straight lines and steady speed drives. I rated these tires as compared to Summer/all seasons as I haven't had a different set of winter tires for this tire size to have a better comparison. As far as dry and wet grip the tires will occasionally slip when starting from a stop, but I attribute that more to driver error with limited experience driving M/T. On roundabouts I can confidently go 40mph on a 25 advisory curve but can tell it's close to slipping. In my few experiences making an emergency stop from 20 or 40 mph stopping distance is about average for a winter tire maybe 1 car length more than on a standard all season in 45°f @40mph and about ½ that in 30°f(~0°c). In snow and ice the grip is excellent even for a winter tire and I had no issues at any point except for in some deep and wet slush whilst making a turn at intersections. Comfort/NVH (Noise vibration harshness) were very satisfactory even when compared to a touring A/S tire (subjectively) though slightly louder than my summer tires which I'd expect due to all the extra siping it wasnt by much and certainly not bothersome to me. Also of great importance to me is Rolling Resistance. My vehicle is meant for superb fuel economy and most people who drive them swear by using only the stock tire to maintain the 60mpg US the car is made for, however I have not noticed much of any difference (maybe 2-3mpg accounting for higher overall diameter of the Nokian).Lastly as far as wear is concerned I'm unsure so far. The tires are all about ⁷/³² from the original ¹⁰/³² with one rotation on them so far. I work in a tire shop and I've seen some sets last 40k miles before getting to ⁴/³² and I've seen some last around 25k as always YMMV based on alignment, air pressure and driving style. Absolutely plan to get more Nokian tires in the future and hope more people will give their products a try.