The Michelin e.Primacy is a Premium Touring Summer tyre designed to be fitted to Passenger Cars.
Tyre Reviews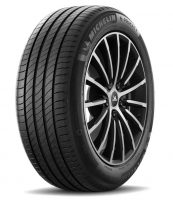 Tyre review data from 5 tyre reviews averaging 79% over 54,000 miles driven.
The e.Primacy is ranked 53rd of 134 Summer Premium Touring tyres.
Reports
Latest Tyre Test Results
2022 ViBilagare Eco vs Normal Tyre Test - 9th of 10 tyres
Positive - Low rolling resistance, good stability, crisp steering feel.
Negative - Very poor wet grip! Long stopping distances in wet.
Overall - The Michelin ePrimacy eco-tyre is said to have a CO2-neutral manufacturing process. Although the rolling resistance was the lowest in the laboratory, it was not the most frugal when we measured actual fuel consumption. Compared to Primacy 4, e.Primacy has a slightly better steering response and sharper high-speed stability. It is noticeable that it is designed to handle heavier EV-cars, partly helped by the unusually low tread depth – only 6.1 mm.
On dry roads, the grip level is slightly less than the Michelin Primacy 4. On wet roads however, the differences are enormous with poor cornering grip, early aquaplaning and worryingly long braking distances. It is really difficult to drive on wet asphalt.
The environmental thinking went too far. In terms of points, it falls far behind.
View Full Test >>
Sorry, we don't currently have any label data for the Michelin e.Primacy
Sorry, we don't currently have any questions and answers for the Michelin e.Primacy. Why not submit a question to our tyre experts using the form below!
Ask a question
We will never publish or share your email address
Top 3 Michelin e.Primacy Reviews
tyres 6mm tread left but drone will not buy again
Skoda
(205/55 R16) on
mostly motorways
for 0
average
miles
I just bought these and was amazed to find they only have 6.mm of tread depth as purchased. D.O.M wk14 2021 C.O.M. Spain I will be monitoring them closely and will be providing and updated review in the fullness of time. I am currently struggling to find a listing of tyre tread depths as purchased so I can make a more informed purchasing decision next time. I've never known a new tyre to have so little tread (depth) at the outset.
Given
86%
while driving a
Nissan LEAF Tekna
(205/55 R16) on
mostly town
for 3,000
easy going
miles
So much quieter on the car compared to the previous set. Only did the fronts but the difference was dramatic. Will definitely use these these tyres when the rears are due for replacement. A real winner for me.
Have you driven on the Michelin e.Primacy tyre?
Have YOU got experience with the Michelin e.Primacy? Help millions of other tyre buyers
Latest Michelin e.Primacy Reviews
Given
83%
while driving a
Toyota Yaris
(225/45 R17) on
mostly town
for 1,000
easy going
miles
I replaced my Dunlop Sport Bluresponse, and since the first moment it is more than noticeable that the car starts moving much easier. They are very smooth on the road and when I push them will turning they just follow with confidence. They are also very quiet. I was going for the Primacy 4, but I do not regret at all.