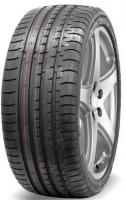 | Size | Fuel | Wet | Noise | Weight |
| --- | --- | --- | --- | --- |
| 225/35 R18 87Y XL | E | C | 72 | 9.00kgs |
| 245/35 R18 92Y XL | E | C | 72 | 11.00kgs |
| 205/40 R18 86Y | F | E | 74 | 9.00kgs |
| 235/45 R18 98Y XL | E | C | 72 | 11.00kgs |
| 245/45 R18 100Y | E | C | 72 | 12.00kgs |
| 235/50 R18 101Y | E | C | 72 | 12.00kgs |
| 255/35 R19 96Y | E | C | 72 | 12.00kgs |
| 255/35 R20 97Y | E | C | 72 | 12.00kgs |
| 245/40 R20 99Y | E | C | 72 | 12.00kgs |
Sorry, we don't currently have any questions and answers for the Accelera PHI R. Why not submit a question to our tyre experts using the form below!
Ask a question
We will never publish or share your email address
Top Accelera PHI R Review
Given
86%
while driving a
Peugeot 405
(205/60 R14 H) on
mostly country roads
for 0
spirited
miles
these are the best tires for my budget
Comfortable, good handling, good dry grip, and i cant hear any noise, and surely buy again.
Latest Accelera PHI R Reviews
Have you driven on the Accelera PHI R tyre?
Have YOU got experience with the Accelera PHI R? Help millions of other tyre buyers
Given
100%
while driving a
MINI Cooper S
(205/45 R17 W) on
a combination of roads
for 2
average
miles
I recently purchased four Accelera Phi R 205/40 R17 tires for my 2012 Mini Cooper S, and have driven on them now for about 2,000 miles. I decided to make the switch from the expensive, original run-flat OEM tires and thought I would experiment with a non-run-flat, off-brand, budget tire. The total cost for the four tires with professional installation, road hazard warranty, and an alignment was less than $425 US. This is a bargain compared to run-flat or even non-run flat brand name tires. I also purchased a spare tire that I obtained from a Mini Cooper non-S from a local junkyard at about the same time for less than $20 since the Mini Cooper S does not come with a spare tire, and the non-S does. The first thing I noticed is that the ride is quieter and less harsh. I do have a sport package trim so a harsh ride is unavoidable. I am used to this since my last vehicle was an E90 BMW with a sport package, and the ride is similar. I will trade a smooth ride for a better handling vehicle in this scenario. They handle great on dry terrain and surprised me in the first rainstorm. I do not understand how people are claiming they have no traction in the rain. I experienced no hydroplaning issues accelerating and stopping quickly on them was no problem. Perhaps when I put more miles on them they will lose their wet grip. I cannot recommend if I would buy these again in the future since I have not had them for very long, but so far so good.
These tyres came fitted to the car and are brand new. would never buy budget tyres out of choice as had a bad experience with an old mx5 fitted with autogrip tyres. Was thinking i would have to get them changed asap but so far they have surprised me and performed well . In the dry they grip well with plenty of feedback and no issues . They are quite noisy tyres but not uncomfortable. Surprised by their ability in the wet thought they would be scrabbling for grip and understeering but no They seem well planted and so far not had any scary experiences either in heavy rain or when the roads are greasy. Weirdly they are marked as all season tyres - Not sure if they will be staying on as if the car handles this well with budget tyres i imagine it would be even better with premium rubber fitted but for the price they seem a bargin.
Given
47%
while driving a
Nissan 200sx
(235/45 R17) on
mostly town
for 500
average
miles
These tyres cane on my car when I purchased it and worked fine in the dry nothing special but on wet roads they have little to no traction and would slip out very easily
Given
53%
while driving a
Ford S Max
(235/45 R18) on for 3,000 miles
An ok tyre for road feedback, its happy to munch up the miles and gives me a good drive in dry conditions. Now any orher conditions other than hot and very dry roads these tyres are simply awful. Ive covered a few thousend miles and have had enough of the very dangerous feelings when in wet or cold conditions. Ive seen shoping trollies doing less understeer than these tyres fitted to my smax 2.0 tdci. I wont ever purchess again (accelera are ditch finders) overall rating an honest 5/10.