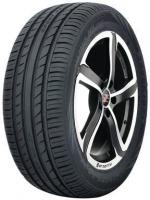 The Goodride SA37 is a Touring Summer tyre designed to be fitted to Passenger Car
Show All
Tyre review data from 19 tyre reviews averaging 64% over 139,627 miles driven.
Latest Group Test Results
2020 Auto Zeitung Summer Tyre Test - 18th of 20 tyres
Positive - None mentioned.
Negative - Long wet braking, slow steering, low wet safety. Understeer in the dry.
2015 Test World Summer Tyre Test - 13th of 15 tyres
Positive - Acceptable braking performance
Negative - High rolling resistance. Unstable behaviour in an emergency situation
Overall - The Goodride SA37 is very unstable and are difficult to drive on a wet surface. In an emergency, the rear tyres lose grip too easily. In the dry the tyres are too slow in response to steering and the rear wheels again can easily go into a skid. Noise level is low, but the tyres are relatively rigid. Also a high rolling resistance.
View All Tests >>
Sorry, we don't currently have any label data for the Goodride SA37
Sorry, we don't currently have any questions and answers for the Goodride SA37. Why not submit a question to our tyre experts using the form below!
Ask a question
We will never publish or share your email address
Top Goodride SA37 Review
Given
89%
while driving a
MG ZS
(225/45 R17 W) on
a combination of roads
for 0
spirited
miles
Put these on my zs180 few months ago for a track day great tyre and only did one day on them and now using them on the road aswell great in wet and dry conditions for £70 fitted for a pair would buy again
Latest Goodride SA37 Reviews
Have you driven on the Goodride SA37 tyre?
Have YOU got experience with the Goodride SA37? Help millions of other tyre buyers
I found these tyres to be excellent in heavy to light rain. When the road was just wet with little water, not quite as good. I drive an automatic Citroen Grand C4 Picasso and these tyres are almost as good as the Michelin tyres it came with and at a fraction of the price.
Given
80%
while driving a
Renault Scenic
(205/45 R17 V) on
mostly town
for 10,000
easy going
miles
Well,they are very quiet on the road. The previous tyres which was an other brand, were noisy on a wet road but this Goodride I do not hear them.
Given
21%
while driving a
BMW 520d M Sport
(245/35 R20 W) on
mostly motorways
for 13,000
average
miles
By far the worst tyres on this earth. i only got these tyres they came in a wheel deal. After3 months crackdown started to appear on the side wall. Goodride wasnt interested in helping me out. I DO NOT RECOMMEND THIS BRAND NOR WOULD I PURCHASE THEM AGAIN.
Given
46%
while driving a
Nissan Juke
(215/55 R17 W) on
mostly motorways
for 20,000
average
miles
Good value for the money I bought them, 86 £ for 2 . Chinese brand, were good tyres. I`ve done 20000 miles in 1 year with them, 90% on highway (on a front-wheel-drive) .
I would not buy them again just because these tyres wear out fast .
Given
48%
while driving a
BMW 435d
(275/35 R20) on
mostly town
for 1,000
spirited
miles
Had these on just the fronts.
Went up in width and my first impressions was amazing.
Then came to wet driving and they are incredibly bad. you just cant tell when its about to slip or anything of the sort
Its either full grip in a corner or nothing.
Road noise did increase as well vs other budget tyers I had before
They are pretty good at smoothing out potholes ect consiering they are only a 35 wall tyre
For a cheap tyre in the dry they are pretty good.
Just terrible in the rain from my experience
If you dont care about performance and just want a crusing tyre these would be pretty good other than the increase in road noise
Again will state that only front tyers with these