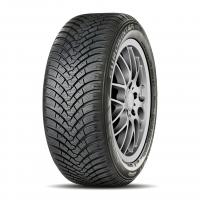 The Falken Eurowinter HS01 is a Premium Touring Winter tyre designed to be fitted to Passenger Car
Show All
Tyre review data from 16 tyre reviews averaging 86% over 45,670 miles driven.
Latest Group Test Results
2020 ADAC Winter Tyre Test - 205/55 R16 - 6th of 15 tyres
Positive - Good in the wet.
Negative - Slight weakness on dry and snow covered roads, average fuel consumption.
2020 ACE Winter Tyre Test - 9th of 9 tyres
Negative - Weak traction and dangerously long braking distances on snow, poor handling in the wet, high rolling resistance. Can only be recommended for regions with very rare snow on the roads.
Overall - Conditionally Recommended.
2020 Auto Express Winter Tyre Test - 6th of 9 tyres
Positive - Good dry braking, low noise.
Negative - Poor performance in the snow.
View All Tests >>
2020 Tyre Tests

2019 Tyre Tests

2018 Tyre Tests

2017 Tyre Tests
Sorry, we don't currently have any label data for the Falken Eurowinter HS01
Sorry, we don't currently have any questions and answers for the Falken Eurowinter HS01. Why not submit a question to our tyre experts using the form below!
Ask a question
We will never publish or share your email address
Top Falken Eurowinter HS01 Review
Given
98%
while driving a
Fiat Stilo
(195/65 R15 T) on
a combination of roads
for 1,000
average
miles
Was going to buy HS449 but they were out of stock, seller show me this Falken HS01, the
tyre look great similar to my older Alpine 4, I put them on car on rainy day the are great
on wet excelent on dry road, can wait to try them on snow, so far great tyre for excelent
price
Latest Falken Eurowinter HS01 Reviews
Have you driven on the Falken Eurowinter HS01 tyre?
Have YOU got experience with the Falken Eurowinter HS01? Help millions of other tyre buyers
Given
77%
while driving a
Ford Focus MK1
(205/50 R16 H) on
mostly country roads
for 1,000
average
miles
After 15 inch tyres (Goodyear UG9 and Dunlop SPT Blueresponse), i've decided to switch on 16 inch. First option was Hankook icept RS2, but they were out of stock in selected tyre dimension, and i bought these Falken. After 1000km, i can say that these tyres are below UG9 in roling resistance, handling and wet braking. Eurowinter HS01 is good in wet and dry braking, very good in comfort and road noise, especially on rough road surfaces. Very good at cornering and they look nice. My biggest complain goes to handling. I dont know how to explain, but my Focus mk1 on higher speeds (100,110km/h) feels like not been fasten to the road. Weird feeling sometimes, but ofcourse nothing dramatic. That never happend to UG9. Overall score 8. Recommended.
Given
80%
while driving a
Fiat
(155/70 R13) on
mostly country roads
for 1,000
average
miles
I just bought these tyres so I cant say about their durability either snow grip. These are the best tyres I have driven on wet surfaces, amazing grip after i swapped my old firestone multihawk 2. Dry grip and braking is OK, nothing special. The only downside for me is noise but they are winter tyres so its not unusual. I am yet to test them in the snow or ice. Great tyre for money so far!!!
Given
100%
while driving a
Chevrolet 2012 Cruze
(205/60 R16 H) on
a combination of roads
for 4,970
average
miles
It has the best performance in wet. You will not need to slow down in aqua. I used it in -10 Celcius degree icy road with no problem at 24-50mile per hour. At 100 mile per hour and above the road sound start and 111mile per hour it becomes unstable in dry road. After 4970 mile it weared 0,4mm. In my opinion it's very very good tyre to price.
Given
79%
while driving a
Ford Kuga
(235/55 R17 V) on
mostly town
for 1,200
average
miles
Bought four of them on 2018 November for my 1.5 Ecoboost AWD Ford Kuga. Now I'm about to change them with summer ones (Michelin Latitude Tour HPs brought with the car) and I think I can make a reliable review.
From Premium class I looked for WinterContact and Ultragrip models. They were too pricey. And from mid class I checked Nokian WR SUV tyres. Even their price were much for me and after some search and tyre test read I learned about Falken tyres' cost/effective performances.
In short, I bought Falken Eurowinter HS01 tyres and used them mostly in cold whether, dry and rainy roads and a couple times on snowy mountain climbs and downs (Lately I learned about Eurowinter SUV series but they were not on market in Turkey).
Especially on rainy days tyres give me confidence comparing Latitude Tour HPs. Also dry grip is assuring. On snow I had no real grip loss but in some mini occasions they tidied up well maybe with the help of AWD as well. I didn't ride on an absolute icy road but I guess you may want a studded or more aggressive treaded tyre for those conditions.
It's been four months and tyre wear is normal. In my conditions I can use this set at least for another two seasons I guess. Car comfort and noise levels are normal. I slightly wonder if this set cause a very small rise on fuel consumption (+ 0,2-0,4 lt/100km) comparing Latitude Tour HPs but that may occur because of the winter conditions, etc. as well. I'm not really sure about this.
Overall in my mild winter conditions I needed a tyre which gives enough grip all in dry, wet and snowy conditions as well. And in this price level Eurowinter HS01 is among the best I think.